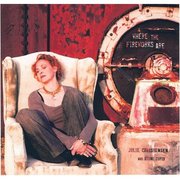 Julie Christensen and Stone Cupid, "Where the Fireworks Are" (Household Ink)
If you know what the Fish Cheer was, or remember where you were when Paul was replaced by a robot Beatle, this album will sound like an old friend. Julie Christensen -- Leonard Cohen backup vocalist, member of the Divine Horsemen, longtime folk-jazz-blues singer-songwriter, etc. -- has somehow summed up a whole generation's frustrated idealism in a suite of songs. You've probably grown used to media suggestions that anyone who ever wanted to change the world is an idiot, but Christensen will make you glad you're still trying.
Her voice is right for the job -- it strives, it's strong, but her high sustained tremolos, warbling so fast that they're almost subliminal, also convey fragility. She's almost foresworn reverb, so she doesn't sound like a lush thrush, more like a naked messenger. She sings that she wants to "make something pretty before my world comes tumblin' down": The crafted beauty has non-ornamental function.
Christensen is good at mixing the personal and the political. The title track, the record's most immediate rocker with its coarse guitar and Neil Young plod, plays as both a sex ode and a rebel's farewell: "between the purple mountain and a molotov." After beginning with a bucket-seat necking session set to whitened Sam & Dave soul, "The Meteor" observes how even bright and powerful forces can make little real impact. But that doesn't stop Christensen from concluding the album with "One More Song," an ever-renewing testimony she'll always sing regardless of the odds.
Along her path of struggle, Christensen carefully places familiar landmarks to give you some context. Elvis Costello's "Shipbuilding" reminds that even the innocent have their part in cranking out the war machinery. In an especially sensitive reading, Randy Newman's "I Think It's Going To Rain Today" is a perfect sigh of periodic despair. "Psycho Killer" owes little to Talking Heads, substituting a more believable teethgrit anger for the original's neurotic hysteria. And if you thought you could never draw something new from Joni Mitchell/CSNY's "Woodstock," try this version's quiet, steady optimism; I had never really heard the words "We are stardust, billion-year-old carbon" before -- that's the kind of perspective Rob Waller can identify with.
The musicans of Stone Cupid are so, so good. First of all, guitarist Joe Woodard, keyboardist Karen Hammack (both of whom help with the songwriting), bassist Steve Nelson and drummer Tom Lackner accompany Christensen with tuned-in economy and wonderfully inventive texture, offering little flashbacks of Lou Reed's "Going Down" or the Band's "The Night They Drove Old Dixie Down" or Steely Dan's "Dr. Wu." And the evaporative audio collages they bring in as song introductions go a long way toward augmenting the album's continuity and individuality. Christensen (who lives in Ojai, California) and this crew (from nearby Santa Barbara) have worked together a long time; it's hard to imagine "Where the Fireworks Are" coming together without this kind of marinated intimacy and trust.
Score another one for the non-Industry.
"WHERE THE FIREWORKS ARE" IS AVAILABLE AT WWW.HOUSEHOLDINK.COM.