| household ink home | products | roster | press | news | photos | gigging | links | mp3s | cd burning | contact |
Jeff Elliott, Different Jungles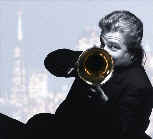 HI-132= $17/CD (ppd) products page, photos, CD Baby page
Accomplished trumpeter-composer Jeff Elliott has a resume which includes work with Les McCann, Flora Purim and Airto Moreira, gigs with James Brown, and countless others, and has released his long-awaited debut as a leader, the aptly-named Different Jungles. Not surprisingly for such a versatile and creatively vibrant musician, his album is an eclectic adventure in music. Jazz, funk grooves, soulful melodies, experimental touches, and dazzling brass writing lie in wait in these jungles...not to mention tasteful virtuosity. Collaborators include drummers Mike Clark (Headhunters) and Cougar Estrada (Los Lobos), bassist Randy Tico, saxist Vince Denham (Kenny Loggins), and keyboardist Karen Hammack.
Jeff's liner note:
Music to me has always presented itself through pictures in my mind.
A vision has a song attached to it. With all I do and see in life my brain transmits the sound of a scene. I write this all out using my senses of intuition, feel, and of course, a pen. When I finished the composing of this CD it was time to do the playing. That's when my pen became mightier than my (horn) sword. After jumping in the woodshed for awhile I finally laid it down. I believe with these fourteen songs I was able to capture years of lingering visions in my head. With great performances by all the players, I sat down with some of my musical friends and listened. To my astonishment, I realized again, that the songs were scenes of remembered streets and alleys in New York, Chicago, Los Angeles, San Francisco, Tokyo, Paris, London, Berlin...and other cities large and small. All these places with their own dramas; traffic, smog, crime, theatre, museums, eateries, movies, parks, beaches, sports, malls, languages...my own little "urban jazz." On the other side was a vision of that opposite world, that other jungle. During a trip to Brazil in 1986 with Flora Purim and Airto, a friend took me out into the jungle near Rio where I saw giant butterflies, huge ferns, rocky waterfalls and sounds of jungle life. Once again, these visions were stored in my brain. Years later I joined Les McCann and started more tours around the world. With new places...musicians...adventures...scenes kept floating in. Eddie Harris joined in for a tour in 1994. He would talk to me in hotel rooms and on long walks about the importance of pioneering new and different music. All these memories have evolved into my version of the "Different Jungles" around the world.

- Jeff Elliott
A.D.H.D.
Jeff Elliott: Trumpets Randy Tico: Bass Rueben (Cougar) Estrada: Drums Cassio Duarte: Percussion
Big Bad Bubba
Jeff Elliott: Trumpets, Keyboards Randy Tico: Bass Kevin Winard: Drums Cassio Duartez: Percussion Vince Denham: Saxophones Jeff Pevar: Guitar
A Hard Win
Jeff Elliott: Trumpets, Flugelhorn, Baritones Randy Tico: Bass Vince Denham: Saxophones Kevin Winard: Drums
The Resurrection of Joey Crown
Jeff Elliott: Trumpets, Flugelhorn, Baritone, Keyboard Vince Denham: Saxophones Randy Tico: Bass Kevin Winard: Drums Eje Lynn-Jacobs: Lead Vocals Eje Lynn-Jacobs, Sandy Cummings, Annette DiNardo: Background Vocals Jeff Elliott, Randy Tico: Talking Vocals
Denham Blues
Jeff Elliott: Trumpets Vince Denham: Saxophone Randy Tico: Bass Mike Clark: Drums Karen Hammock: Keyboard, Piano
Harbor Nights
Jeff Elliott: Trumpets, Flugelhorn, Baritones, Melodica, Synthesizer Vince Denham: Saxophones Karen Hammock: Keyboard, Piano Randy Tico: Bass Mike Clark: Drums Airto Moreira: Percussion
Weather Monk
Jeff Elliott: Trumpet, Flugelhorn, Synthesizer Vince Denham: Saxophone Randy Tico: Bass Karen Hammock: Keyboard Mike Clark: Drums
Elephant's Graveyard
Jeff Elliott: Trumpets, Keyboards, Melodica Vince Denham: Soprano and Tenor Saxophones Kevin Winard: Drums, Percussion Randy Tico: Bass Jeff Pevar: Guitar
Twins Tribute
Jeff Elliott: Trumpets, Flugelhorn, Baritones Vince Denham: Saxophones Kevin Winard: Drums
Millennium Jazz Dance
Jeff Elliott: Trumpets, Synthesizer Vince Denham: Saxophones Karen Hammock: Keyboard Mike Clark: Drums Airto Moreira: Percussion Randy Tico: Bass Jeff Pevar: Guitar Michael Maxwell: Screech Trumpet
Five Cavemen ... Five Trumpets
Jeff Elliott: Trumpets
Jungle River
Jeff Elliott: Trumpets, Flugelhorn, Baritones, Synthesizer Karen Hammock: Keyboard, Piano Vince Denham: Saxophones Randy Tico: Bass Mike Clark: Drums Cassio Duarte: Percussion
Freedom Train
Jeff Elliott: Trumpets, Flugelhorn, Baritones, Keyboard, Melodica Vince Denham: Saxophones Randy Tico: Bass Kevin Winard: Drums, Percussion Jeff Pevar: Guitar
Pelican's Blues
Jeff Elliott: Trumpet, Piano, Melodica
All songs written, arranged and produced
by Jeff Elliott copyright 2003
last updated: january 14, 2014