sitemap
| household ink home | products | roster | press | news | photos | gigging | links | mp3s | contact |
<![if !vml]>
<![endif]>
P.O. Box 2093, Santa Barbara, CA 93120
(805) 687-3963, FAX (805) 682-8305
e-mail: info@householdink.com (www.householdink.com)
Headless Household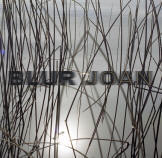 Blur Joan
The band takes yet some new twists on its seventh album, Blur Joan, in which the digital paintboxing of Tom Lackner and Dick Dunlap blend in with some of the most jazz-minded tracks yet. Formed in Santa Barbara in 1987, Headless Household continues to amuse and confuse its listeners and itself, mixing up jazz, rock, free improv, noise, Americana, Europeana, would-be soundtracks… and now electronica-acoustica-neurotica.
Hyphenates are in order here, with encounters of the electro-acoustic, forward-reverse (i.e. "Door of the 4/3"), inside-outside kind. Bold saxophonic contributions come from east and west, from alto player Dave Binney (NYC)—check out the relaxed retro-fitted "Then Was the Time" and the post-fusion of "Bluer in the Face"--and tenor man Tom Buckner (Ventura, Calif.)—as on the title track and "Brownie." Ace vocalist Julie Christensen cameos on a couple of tunes (the snarly "babble" and the sweet "Sunday Go to Meetin' (Dream on Your Time)"). The all-important guest list also includes cellist Claudia Kiser, violinist Sally Barr, pedal steel guitarist Bill Flores, trumpeter Jeff Kaiser, and bassists David Piltch and Jim Connolly (filling in for regular bassist Chris Symer).
Blur Joan fits right into the Headless Household discography, by connecting up with the diversified "band sound," while also clearly otherwise.
The discography to date: Headless Household (1987), Inside/Outside USA (1993), Items (1996), and Free Associations (1999), mockhausen (2000), Vertical Medleys, Vol. 1 (2004)—a special "hyper remix" project—and Blur Joan (2005), all released on Household Ink Records. The core Household: Dick Dunlap, keyboards, Tom Lackner, percussions, Chris Symer, basses, Joe Woodard, guitars, song construction.
PRESS CLIPPINGS (re: earlier works):
"Music this wildly diverse can never be properly marketed in this age of specialization, but that doesn't make it any less extraordinary." **** (four stars) --Bill Milkowski,
Tower Pulse magazine
re: post-Polka: "…while this isn't your grandparents' polka, it isn't Weird Al's pop-culture mockery, either. Headless Household understands the need to balance irreverence with reverence, who realize that the clarinet can be ominous, who know that clowns are scary…a willingness to expand your horizons and a broad sense of humor will help immensely." --Justin Kownacki, Splendid e-zine
"The opening three performances reveal this cooperative's challenging scope…a precision, depth, warmth and ease of feeling that can rival any other outfit in the professional mainstream. Lovely stuff." --David Lewis, Cadence;
"Like groups like Medeski, Martin and Wood, Headless Household's vision of jazz is one of expanding boundaries and eclecticism…. Wraps it up in a not-quite-round, not-quite square package labeled `jazz.'" --Noah Wane, Splendid e-zine;
"Headless Household still seems to think that a mind is a terrible thing to waste." --Greg Burk, L.A. Weekly…
"This Santa Barbara combo plays endearingly bizarre pop, bop, swing, and several other genres with impeccable musicianship and a sly sense of humor."--Rafer Guzman, East Bay Express.
"Hailing from Santa Barbara, California, Headless Household achieved regional cult status by the late 1990s, thanks to their quirky and eclectic kind of new music, their relentless live shows and a string of albums all released on the band¹s own label Household Ink." --All-Music Guide, www.allmusic.com
Press clips and playlists are greatly appreciated.
For info, photos, mp3s, and miscellany, please visit our humble web-home: www.householdink.com.