| household ink home | products | roster | press | news | photos | gigging | links | mp3s |cd burning | contact
Julie Christensen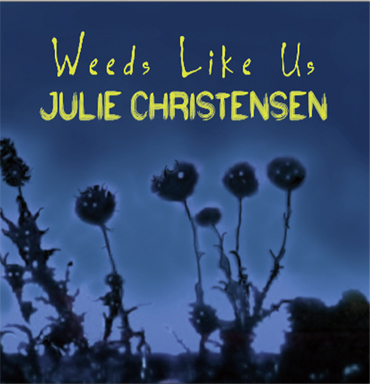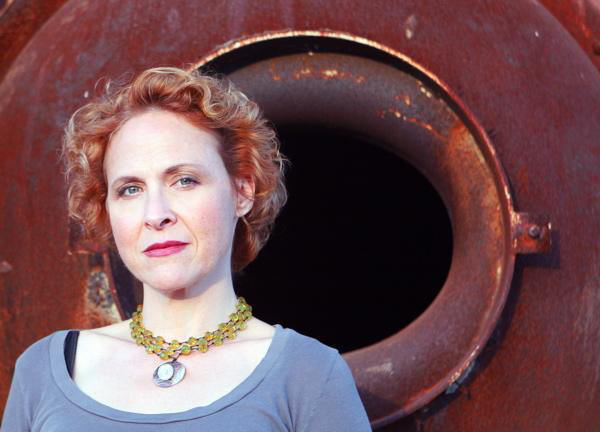 ...Julie Christensen, the dynamic and versatile singer who has gamely performed and recorded with Headless Household for years, has joined the Household Ink ranks, we're happy to report. Julie has released her long-awaited "art-pop" oriented Where the Fireworks Are, a timely, poetic and generally moody, rocking and lovely thing.
Late in 2006, Julie put out her "standards" album Something Familiar--her first release on Household Ink. The album includes Jeff Ballard and Kenny Wolleson on drums, Greg Liesz on pedal steel and Jeff Elliott on trumpet, as well as her soul sister Karen Hammack on piano... On the big screen, she's also a featured singer in the acclaimed fllm Leonard Cohen: I'm Your Man (having sung with Cohen for years, and been involved in Hal Willner-produced Cohen tributes, including recent shows in Dublin, singing duets with Lou Reed...) gigging,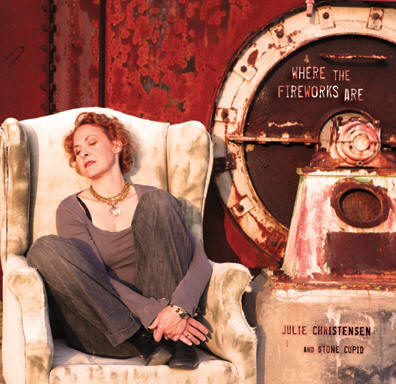 Julie Christensen and Stone Cupid
Where the Fireworks Are
HI-139= $12 (postage paid), products page... download one-sheet bio
check out Julie's pages: www.stonecupid.com
www.myspace.com/juliechristensenandstonecupid
1. Well Enough 2. Something Pretty mp3 3. Where the Fireworks Are mp3 4. Shipbuilding
5. Have a Pretty Dream 6. The Meteor mp3 7. Boy in Pain 8. I Think it's Going to Rain Today 9. Psycho Killer
10. Rapture Index =0 mp3 11. She Melted 12. Woodstock 13. One More Song
copyright 2007, Stone Cupid
---
Something Familiar
HI-138= $12 (postage paid), products page...
Versatility has never been a problem or a pose for singer Julie Christensen, whose voice has found a home in the L.A. post-punk band Divine Horsemen and, for years, as a spotlighted singer with Leonard Cohen. With Something Familiar, Christensen's third solo album, she adds another genre feather to the cap: jazz.
With this unique project, Christensen breaks out in her style on such tunes as "But Beautiful," "Billie's Bounce," "Stolen Moments," "Have You Met Miss Jones" and her version of the snaky Charles Mingus charmer "Orange Was the Color of Her Dress, Then Silk Blues" (with lyrics by Christensen). Singing standards, and in her own signature style, is actually nothing new for the vocalist. In her sundry travels, geographically and musically, she has dipped into the Great American Songbook for years, from her native Iowa to years spent in Austin and Los Angeles, and onto her current life, based in Ojai, California.
With her keyboardist and longtime creative cohort Karen Hammack, Christensen tracked in Brooklyn with noted jazz drummers Jeff Ballard and Kenny Wolleson, alongside bassists Mary Ann McSweeney and Don Falzone. Back on the west coast, trumpeter Jeff Elliott and pedal steel guitarist-of-note Greg Liesz added their spices to the mix. The end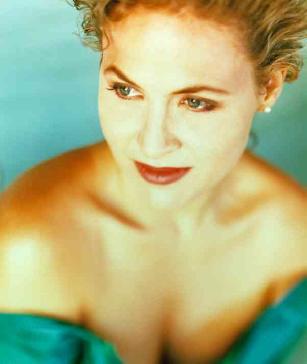 result is a fresh twist on old musical values, something familiar yet also otherwise.
Something Familiar is more than a standards festival. The album title itself is taken from a fascinating Jimmy Webb-penned rarity, "Like Marilyn," the original "Hard to Love," and a gritty-bluesy workout, "Today I Sing the Blues."
Christensen's first solo album should have been released in 1990, after she worked on it with producer Todd Rundgren at his Bearsville studio. Alas, the album got caught up in record company snafus and it has remained on the shelves all these years. Meanwhile, Christensen took the DIY route and made two fine albums, Love is Driving (1997) and Soul Driver (2001), on her own Stone Cupid label.
Among Christensen's musical activities, her connection to Leonard Cohen's world continues, as a featured member of the Cohen tribute projects produced by Hal Willner. The tribute's Sydney Opera House concerts became the core of the acclaimed documentary, Leonard Cohen: I'm Your Man, featuring Christensen and her longtime ally (and fellow Ojai-an) Perla Batalla on the classic Cohen song "Anthem."
Christensen's re-entry into her solo career is coming on strong. Where the Fireworks Are, a companion album worked on simultaneously with Something Familiar, is in the finishing stages.
"... from angelic, folky charm to truly badass bluesy wails; ...one of the loveliest voices in contemporary music"
--LA WEEKLY
Visit Julie on the web:
www.myspace.com/juliechristensenandstonecupid
www.householdink.com/juliechristensen.htm
(pirate video of Julie Christensen, with Joe Woodard, at the Los Angeles Premiere of Leonard Cohen: I'm Your Man,
at the Ford Amphitheatre, June 24, 2006... singing "The Singer Must Die")
last updated: march 23, 2020