| household ink home | products | roster | press | news | photos | gigging | links | mp3s | contact |
Brad Rabuchin
Check out the smart-minded, limber-digited guitarist's debut CD,
When Smart Dogs Go Bad... and hear him as the new blood in Ray Charles' band...
(proceed to Brad's home page...)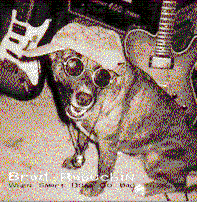 Brad Rabuchin
When Smart Dogs Go Bad
(CD) HI-120= $12 (postage paid)
To order HI products, use credit cards--safely, using SSL (Secure Sockets Layer) protocal--via the Products page, or send check or money order to:
Household Ink, P.O. Box 2093, Santa Barbara, CA 93120
Guitarist Brad Rabuchin is not one to paint by numbers, musically speaking, or play by a given set of rules. That much is clear on his debut album on Household Ink Records. When Smart Dogs Go Bad is a smart mongrel of a project. It's a jazz album with liberal doses of other, mutually compatible influences, from rock to funk to ethereal aesthetics, and back. It's a portrait of a guitarist in the late '90s, defining jazz as it goes.
This is no guitar-dominated blowfest, but a musical outing accenting the leader's compositional sensitivity and the delicate-yet-feisty textures of a carefully-conceived ensemble. Rabuchin's Los Angeles-based band is fueled by the flexible rhythm section of bassist Dean Taba and drummer Kendall Kay, and tastefully inflected by reedmen Andy Suzuki, Tom Buckner, and Chris Bleth. The band announces its intentions on the opening cut, "Why We Call Them Animals," with its simultaneous jagged flights and underlying coolness, and they proceed in varying directions from there, into regions of melodic luster ("The Herd Instinct"), and muscular invention ("Get Out and Stay Out").
When Smart Dogs Go Bad introduces a guitar player with chops and notions galore, as it poses a challenge to the what-is-jazz question. Rabuchin's implicit answer to the musical question is that it is many things, and many of those things are woven into the tapestry of this project.
THE TUNES: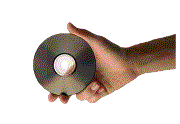 Why We Call Them Animals* (5:19), The Herd Instinct (5:24), Get Out And Stay Out (4:12), Life Before Rocks (4:43), #33* (6:20), Hidden Agenda (4:09),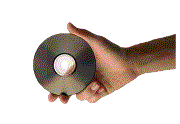 When Smart Dogs Go Bad* (8:53), The Primates (6:25), When Ginger Snaps* (5:58), The Glide (4:42), Collaborators (7:30)
THE BAND
Brad Rabuchin-guitar/guitar synth; Dean Taba-bass; Kendall Kay-drums; Andy Suzuki-alto, tenor, soprano saxophones; Tom Buckner, tenor sax; *Chris Bleth-bass clarinet
all compositions by: Brad Rabuchin, Noose Pub BMI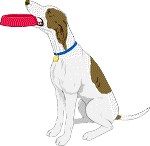 Send e-mail: info@householdink.com
Last modified: september 25, 2011