NATALIE D-NAPOLEON
Raised on a combination of Croatian folk songs and classic American standards while growing up on a farm just outside of Perth in Western Australia, music was always destined to play a significant role in the life of Natalie D-Napoleon. While driving produce to market with her father, she would harmoize with the radio on songs like Roy Orbison's "Blue Bayou" and Linda Ronstadt's "It's So Easy To Fall In Love." Little did she realize that, a handful of years later, she would be harmonizing with some of those voices for real.
After relocating to California, the first thing, D-Napoleon (family legend insists that she's related to Bonaparte) did was gather a collective of local musicial contemporaries and recorded an album. Longtime kd lang and Joe Henry collaborator, David Piltch, helmed the production while Dan Phillips and Kenny Edwards, who consisted her local live band, lent their considerable talents on paino and guitars and mandolin respectively. Also helping out were Greg Leisz (pedal steel), Aaron Sterling (drums), Phil Parlapiano (accordion), and Victoria Williams (banjo). Recorded in Santa Barbara and titled Leaving Me Dry, the album is fittingly being released locally on Household Ink Records.
Natalie on the web
http://www.nataliednapoleon.com
LEAVING ME DRY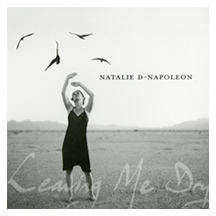 HI-146= $15 (postage paid)
PRESS
Album Review: Leaving Me Dry by Natalie D-Napoleon
No Depression
By Karl Benton

Santa Barbara isn't really an obvious recording destination for Americana musicians. Los Angeles, maybe. Nashville, yes. Austin, definitely. But when Australian singer-songwriter Natalie D-Napoleon wanted to turn her Americana-infused tones into a debut solo album, she seemingly opened up a map of the United States and firmly stuck a pin in the midst of the California's central coast. And it turned out to be a stroke of musical genius.

The attraction of the coastal enclave, that is more renowned for laid back musical musings about sun and sand from artists the likes Jack Johnson's and Toad the Wet Sprocket than the countrified yearnings that D-Napoleon conveys, obviously laid with Santa Barbara-based producer David Piltch. Having spent many years lending a musical hand to kd lang (co-producing her 2008 magnum opus, Watershed), Piltch has a natural talent for conveying the passion of the female creative soul.

An eclectic cast of backing musicians was gathered for the Leaving Me Dry. Along with luminaries of the Californian music scene like Kenny Edwards, Greg Leisz, Phil Parlapiano and Victoria Williams, the services of Aaron Sterling, who has recently contributed his talents to John Mayer's Born and Raised and Taylor Swift's Red, and Dan Phillips, the brother of Toad the Wet Sprocket's Glen Phillips and recent Peter Gabriel collaborator, were also enlisted.

It was an empathetic approach that Piltch took to the album's production. Although he allowed the collective to flex its musical might at will - just listen to show-steeling moments like Edwards's rollicking lead guitar on "With the Speed of Love" and Leisz's tear inducing pedal steel on "The Deep Blue Sky," Piltch deftly kept D-Napoleon's gorgeous vocals and heartfelt lyrical message center stage.

The album opens with the rustic lament of "How Can I Love You So?," which rattles along thanks to Sterling's tin-pan drumming and Parlapiano's boisterous banjo, over which D-Napoleon's ethereal vocals glide. Banjo also flavors "The Well Song," but this time in the hands of Williams. D-Napoleon eases into the song with her delightful vocals underpinned by a couple of acoustic strums before the entire collective joins in, including Williams on backing vocals, to color between the love song's dusty lines.

While Edwards steals the moment on "With the Speed of Love" (this was to be Linda Ronstadt's longtime sideman's last recorded venture prior to his recent untimely passing), "Leaving Me Dry" is all D-Napoleon. Amongst an emotive landscape of Edwards's lamenting electric guitar and chiming mandolin, and swirling organ thanks to Phillips, D-Napoleon's seductive vocal prowess commands center stage.

With "Leave a Light On" offering an aching piano-driven love song, that features Phillips on backing vocals and cello from D-Napoleon's Australian counterpart, Melanie Robinson, at the other end of the emotive spectrum resides "Don't Be Scared," which sees Edwards's gleeful mandolin delightfully accompanied by Parlapiano on accordion.

The album closes in contemplative fashion with "The Road." Lead by D-Napoleon's chiming acoustics and colored by Phillips's plaintive piano, Robinson's wallowing cello ebbs and flows throughout the swelling instrumentation before the orchestration fades away presenting the album with a poignant culmination.

Santa Barbara might not be the new Austin. It might not be Nashville or Los Angeles. But, as this album passionately displays, its inhabitants are more than ready to embrace its rustic roots in fine fashion.

Album Review: Leaving Me Dry by Natalie D-Napoleon
Santa Barbara Independent
By Ali Comingore

It's been nearly three years since Natalie D-Napoleon's last EP, Here in California, fell across my desk. In the time between, though, the Australia-born, Santa Barbara-dwelling songstress seems to have developed her strongest collection of songs to date. On Leaving Me Dry, D-Napoleon's first full-length offering, her soulful lilt and rootsy leanings are paired with some of the finest musicians the folk scene has to offer; David Piltch plays bass, Dan Phillips contributes keys, Victoria Williams adds banjo and backing vocals, and the late Kenny Edwards provides guitar and mandolin accompaniment. At the helm of it all, D-Napoleon delivers a gorgeously diverse collection, complete with rollicking folk jams ("Don't Be Scared," "How Can I Love You So?"), heartfelt slow burners ("Leaving Me Dry"), and one masterfully placed riff from The Pixie's "Here Comes Your Man" ("So Brand New"). It makes for a record that's as listenable as it is emotionally charged — a triumph for one of S.B.'s brightest stars.Napoleon Down Under: The Alt-Country Stylings of Natalie D-Napoleon and Friends Come to Rocks
Many towns can claim themselves as comfy nexuses of country music. There's Bakersfield, which harbored Johnny Cash and Merle Haggard, or Austin, Texas, home to Willie Nelson and Alejandro Escovedo, among many others. But my favorite new capital of the musical c-word is Fremantle, nestled next to Perth in the far west end of Western Australia. That's where Natalie D-Napoleon first heard alt-country, and it's where the singer/songwriter-performing at Rocks this Friday with an all-star cast-rediscovered her backbeat muses.
"Fremantle's a beautiful place," she told me over the phone from those precise geographical coordinates last week. "It's a working-class town, a harbor, so the rents are reasonable, and a lot of artists have settled here." The scene was rich in music, or at least it seemed that way because of its close proximity to Perth (heralded as "the Australian Austin") and its rich pub scene. One of the few such places left in Australia since pub gambling became legal and slot machines replaced band stages, Perth features a nice combo of beer-drinking music lovers-both "wharfies" from the docks and bohemians from their flavorful garrets. "It was the indie-rock '90s when I first started hearing alt-country bands from the States. Bands like Uncle Tupelo, Whiskeytown, and the Jayhawks, and that was it." (It was Ryan Adams who eventually made her pick up guitar and pen with renewed vigor.)
D-Napoleon, who already had a rock career, considers herself a writer first (she's had success publishing short stories in Australian literary journals), but neo-country gave her a framework for storytelling, though she prefers a bit of ambiguity. "I write these songs, and maybe I have ten ideas going through my head, and then I sing a song three or four different ways and suddenly I get it, I realize why the song makes sense" she laughed. "I also love it when people come and tell me what they think a song is about."
Natalie grew up hearing her father sing a combo of Croat folk songs and American standards like "Blue Bayou" in a truck on the way to the market. The family had a small farm, and their other legacy was their land.
She comes by her unusual name honestly, by the way. Though born in Fremantle, her parents originally ventured over from Croatia. The family's legend tells of an ancestor who became the French emperor's lover (hence, Di Napoleon) when the general was making his way though the Balkans. Natalie grew up hearing her father sing a combo of Croat folk songs and American standards like "Blue Bayou" in a truck on the way to the market. The family had a small farm, and their other legacy was their land. "I spent a lot of time wandering through the bush-I guess you would call it forests." Her parents weren't wild about her career plans, but didn't interfere.
"I really always just loved music, but the funny thing is I didn't really get into it until after college," said D-Napoleon. She tried busking in Fremantle before playing clubs: "I never played covers," she said, laughing. "I wasn't a good enough musician to play other people's music, so I played my own." She started a rock band called Bloom, met a musician named Grant Ferstadt, had her alt-rock conversion experience, and formed Flavor of the Month, which played in both Australia and the United States. "We even played Santa Barbara," laughed D-Napoleon. The band was befriended by Brett Leigh Dicks, a freelance writer and promoter, who at the time was writing for Revolver and Australia's version of Rolling Stone.
For better or worse, D-Napoleon's solo act came a few years after the band broke up. She went home to Fremantle and, for several years, stayed away from her guitar. "Then I just started writing songs again," she said. She came to visit Dicks (who had since immigrated to Santa Barbara), and planned to perform last summer when Dicks brought Victoria Williams to the Presidio. Though last-minute technical problems prevented the double bill from happening, D-Napoleon went on to befriend Williams and joined her onstage at a club in the high desert oasis of Pioneertown. There she also met Glen Phillips and a number of California players."That was unbelievable," she said.
In the meantime, back in the country-western fulcrum of Fremantle, D-Napoleon recorded a sampler of her new music, ranging from straight country to harder (more satisfying) rock numbers, which she will play on Thursday, November 8, at Rocks. Though D-Napoleon lists Neko Case, Gillian Welch, and Patti Griffin on her list of people she sounds like, the real resemblance is to another Natalie: Early, 10,000 Maniacs-era Merchant, who drew frequently on natural metaphors, immediately comes to mind.
At Rocks, D-Napoleon will draw a number of her newfound American friends, including the inimitable Victoria Williams, who "doubles" as vocalist and guitarist. But D-Napoleon is equally excited that folk rock legend Kenny Edwards (of Linda Ronstadt and Karla Bonoff fame) will be playing, too. "I just can't believe it. He was a Stone Poney," she said in awe. But that's nothing; he'll be playing behind D-Napoleon, an alt cowgirl from the west end of the antipodes.