sitemap
| household ink home | products | roster | press | news | photos | gigging | links | mp3s | contact |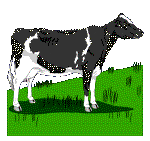 HOUSEHOLD INK PRESS
---
Headless Household press:
early warning note, circa 1987:
"Strange, cool rumblings from Southern California" --Jas Obrecht, Guitar Player.
http://www.metaljazz.com/2010/12/post_11.php
Headless Household, "Basemento" (Household Ink).Celebrating their 25th anniversary, the Santa Barbara quartet & friends raise up a double disc that's like a random shuffle mix from some extreme eclecticist's record collection, except all played by one very subtle and adventurous house band. Although H.H.'s taproots range from polka to Stockhausen, the program flows with remarkable consistency and ear-friendliness. They'd probably be legends if they were from New York.
--Greg Burk, Metaljazz
re: Balladismo (2015)
Story by Ted Mills in the Santa Barbara News-Press, Sept. 11, 2015 link
http://www.independent.com/news/2015/jul/28/headless-households-emballadissimoem-album-sink/
---
Headless Household's
Balladisimo
Is an Album to Sink Into
Santa Barbara Band Releases Its Ninth Record
---
Tuesday, July 28, 2015
By Richie DeMaria, Santa Barbara Independent
"The cover of Headless Household's Balladismo shows the barely discernible figure of a woman dreamily reclining beneath a foreground of stormy ocean waves. It's a fitting image for an album that shifts and ripples gently between various low-key avant stylings — takes on jazz, lounge, soft rock — while maintaining a dreamy blue mood throughout. ... enduring band of regional free spirits... It's an album to sink into."
--Richie DeMaria, Santa Barbara Independent link
Headless Household – Balladismo (Household Ink)
There's just no encapsulating the entirety of this quartet's breadth of expressions. Cross-genre interconnecting lines of sonic languages somehow are molded into a deliriously fun mix of old & new jazz, bluegrass, folk, avant-garde and classical minimalism. At its core, they're a quartet of keyboardist Dick Dunlap, drummer Tom Lackner, bassist Chris Symer and guitarist Joe Woodard, but the inclusion of a diverse line-up that brings together pedal steel, saxophone, electronics, vocals, violin and trumpet is a good barometer for the creative fearlessness at work here.
--Dave Sumner, "Bird is the Worm" blog link
Artist Site | Listen | Buy: eMusic – Amazon<![if !vml]>

<![endif]>
re: Basemento
http://www.relix.com/reviews/cds/2010/07/22/gabor-szabo-headless-household-omar-souleyman-and-more-ear-crystals
Santa Barbara's Headless Household celebrates 25 years of criminal neglect with a wonderful double album, Basemento (Household Ink). Come for "This, That…," guitarist Joe Woodard's song-oriented SoCal strip-mall blend of jazzy bossa nova and Bakersfield country laments (i.e., "Jobim Meets Jim Beam"). But stay for "…The Other," a disk's worth of some of the smartest and friendliest psychedelic jazz you'll ever snuggle up to. Guest saxophonist Dave Binney applies the hot sauce liberally to these nine smart, incisive sonic meditations encompassing everything from British progressives like Henry Cow, gnarly New York downtown jazz, Weather Report's international feel and the heady cosmic geologies of countless Grateful Dead space excursions.
--Richard Gehr, Relix, July, 2010
Biography
No, Headless Household is not an Industrial band. They sound like Miles Davis playing with the Kronos Quartet conducted by Sun Ra with occasional vocals by George Jones and backup singers from A Man and a Woman. Wonderful and wonderfully bizarre. If and when Twin Peaks gets another stab at prime time TV, Headless Household would be the perfect band to play at the lodge.
--Nick Dedina, Rhapsody.com
Noozhawk (Santa Barbara) review of SOhO "Spring Sing '10), 7-4-10
Santa Barbara Independent review of Lobero Concert, 3-23-10
Santa Barbara News-Press story, by Brett Leigh Dicks, 3-12-10
<![if !vml]>

<![endif]>
See Charles Donelan's story in Santa Barbara Independent, 3-11-10
<![if !vml]><![endif]>
http://www.noozhawk.com/arts/article/070410_jeff_moehlis
<![if !vml]><![endif]>
Jeff Moehlis: Here's To Headless Household (and the Heimlich Maneuver)
Tracks from eclectic band's new album Basemento featured at SOhO show
English Romantic poet Percy Bysshe Shelley is credited with the following quote: "Reviewers, with some rare exceptions, are a most stupid and malignant race."
Composer/guitarist/bandleader Frank Zappa was perhaps even more harsh about rock journalism, defining it as "People who can't write, doing interviews with people who can't think, in order to prepare articles for people who can't read."
Indeed, there is often a testy relationship between the people who produce art and the people who critique it.
But there are people who do both, and do both well. Case in point: longtime Santa Barbara music critic Joe Woodard, who is also the guitarist for the eclectic "etcetera-ist" Santa Barbara band Headless Household.
At SOhO Restaurant & Music Club, Headless Household continued its celebration of the band's 25th year on June 23, a celebration that also brought them to the Lobero Theatre a few months ago. Actually this is its 27th year — Woodard blamed the numerical discrepancy on "timing issues" — and the SOhO show was billed as "Spring Sing '10", ironically, considering it occurred shortly after the official solstice kickoff of summer. They are also celebrating the recent release of their eighth album — a double — called Basemento, whose songs were heavily featured at both the SOhO and Lobero shows.
Wednesday night's show had core Headless Household bandmembers Woodard on guitar and sometimes vocals, Dick Dunlap on keyboards, and Tom Lackner on drums, plus Tom Buckner on saxophone, Sally Barr on violin, Julie Christensen on vocals, Kenny Edwards on mandolin and vocals, Tom Ball on harmonicas of various sizes, and first-timer Steve Nelson on bass. This is quite a lineup of local talent — perhaps most notably Edwards, who was a co-founder with Linda Ronstadt of the Stone Poneys in 1964, and Christensen, who has performed background vocals for Leonard Cohen and others.
Special mention must also be made of Ball, whose tasty fills are a true delight, whether on a regular harmonica or one much bigger than any I've ever seen before.
If one had to put Headless Household into one genre, it would have to be jazz. But, of course, this label covers a lot of territory, which the band is not afraid to explore. Personally, I prefer when they let their hair down — figuratively, of course — and do it more free-form, as for the songs "Blur Joan" and "Basemento," but all songs are worth a close listen and are enjoyable in their own ways.
Notably, some of the band's most memorable songs are comfortably outside of jazz, which reminds us that for this band "eclectic" is more than just PR. One is the moving "(At the) Mercy of the Wind," which was inspired by the Tea Fire that almost burned down their studio and delayed the album for about a year. This was sung with great conviction by Edwards, as was the case when it was sung at the Lobero by sometimes collaborator Glen Phillipsfrom Toad the Wet Sprocket and WPA. Another is the hysterical twisted polka, "Here's to the Heimlich Maneuver," sung in delightfully animated fashion by Christensen.
Let's hope that Headless Household continues to celebrate its 25th anniversary like this for at least a few more years.
— Noozhawk contributor Jeff Moehlis is an associate professor of mechanical engineering at UCSB. He tries to write about music without being stupid or malignant, for people who actually know how to read. In his younger days, he recorded some of his own music. Check it out atmusic-illuminati.com.
http://www.independent.com/news/2010/mar/23/headless-household-lobero/
<![if !vml]>
<![endif]>
<![if !vml]>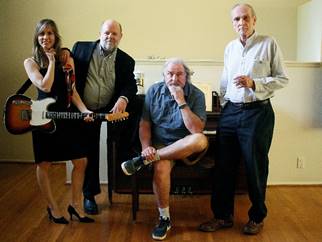 <![endif]> Paul Wellman
Guitarist, composer, and full-time writer Josef Woodard rocking out at the Lobero with his group Headless Household.
---
Headless Household at the Lobero
Santa Barbara Band Mixes Genres at Friday Night Show
---
The audience for Friday night's show was a great cross-section of the Santa Barbara art and music scene, and their reward for waiting a whole extra year for Headless Household's 25th anniversary concert was the group's best live performance in recent memory. Drawing primarily on material from their brand new double CD release, Basemento, the Household played 21 numbers over the course of two long sets, and earned a stormy standing ovation at the end of the night.
The opening three numbers—"Why Joey Can't Read," "Hey, Hey Brazil," and "Blur Joan"—demonstrated both the impressive depth of the band as instrumentalists and the sophisticated songwriting and arranging of guitarist Joe Woodard. The rhythm section of Tom Lackner (percussion), Chris Symer (bass), and Dick Dunlap (keyboards) consistently transcended the category, with Lackner contributing not only a pounding beat, but also a melodic counterpoint to the ensemble, and Dunlap adding layers of funk and groove to even the polkas and waltzes.
The first set reached its climax on two new numbers, "(At the) Mercy of the Wind," which was dedicated to the victims and all who were affected by last year's big fires in Santa Barbara, and "I Never Wanted You," a blue-eyed soul workout by Woodard that featured Tom Ball on harmonica. Glen Phillips delivered "Mercy of the Wind" beautifully, packing his voice with emotion and making a direct connection with the audience. Joined by Julie Christensen for "I Never Wanted You," the band made an instant classic out of this recent composition. In a just musical world, the extended dance-floor remix of "I Never Wanted You" would be the soundtrack to thousands of fist pumpers from here to the Jersey Shore this summer.
After an extended jazz section, the band returned to one of their mainstay genres to end the first set with "Here's to the Heimlich Maneuver," a fast and funny original polka number that found Christensen showing a particular flair for hand gestures. It's not the macarena—it's even better!
The short intermission, during which it seemed all of artistic Santa Barbara was mingling on the bricks in front of the theater, was followed by the Household returning to the stage for another powerful set. This time, the opening was a piano solo, or, more properly, a multi-faceted Dick Dunlap keyboard composition called "Face Up," which careened from straight-ahead jazz through several genres before finally coming to rest in something like contemporary electronica. Highlights of the second set included another new Woodard number, "Not Me," and the funky title track by Tom Lackner, "Basemento." Overall the vibe was great and the music eclectic enough to satisfy any head, household member or not.
<![if !vml]>

<![endif]>
---
<![if !vml]>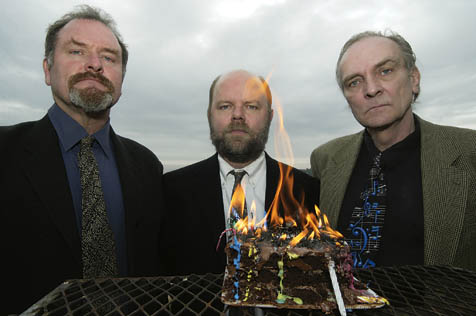 <![endif]>
Photo by Paul Wellman
Headless Household Celebrates Holidays, Anniversaries at Center Stage
Rockin' Around the Christmas Tree
Thursday, November 29, 2007
Santa Barbara's favorite staple of musical eccentricity, Household Ink, truly embodies the notion of a little label with big ideas. When S.B. musical sage Joe Woodard created the label in 1987, it was meant to serve as a promotional chariot for the Headless Household music collective. Now having released some 30 titles by a myriad of local artists, Household Ink has since evolved into one of the most curiously dynamic outlets for recorded music on the West Coast. A reflection perhaps of the insatiable musical appetite that characterizes its founder, the label flourishes in its diversity. And while the idea of starting a record label might have been seeded by nothing more than a passing comment, it was something Woodard quickly and passionately embraced.
"The late '80s, unlike now, were a time when putting out your own records and starting your own label wasn't nearly as common, cheap, or easy as it is today," said Woodard. "However, there has been a tradition in fringe music to go the do-it-yourself route. I had been in New York City to write an article on this visionary indie distribution organization called the New Music Distribution Service, started up by jazz great Carla Bley. The head of it, Yale Evelev, told me, 'Everyone should have a label,' half tongue-in-cheek. I took it to heart, and with the help of a generous money influx from family and friends, we launched the thing. We got a PO Box, a fictitious business statement, and Household Ink Records was born."
In a town abundant with vibrant record labels — including Matinee, Corporate Nightmare, Lobster, and Wednesday — Household Ink stands as a shining testament to the diversity of the Santa Barbara music scene. The label's collective spans the musical spectrum with its various releases from jazz, pop, soul, and folk. Even still, the finished products are all beautifully drawn together by a collective injection of heart and soul. Be it Headless Household's Zappa-esque embrace of the polka, the luscious art-pop of Julie Christensen, or the enthused folk of the irrepressible Dudley, Woodard has consciously given the label the space to evolve in its own way.
Headless Household 18th Annual Christmas Concert
When: Monday, Dec. 3, 2007, 8 p.m.

Where: Center Stage Theater, 751 Paseo Nuevo, Santa Barbara, CA

Cost: $9 - $12

Age limit: Not available
"As the label developed, organically and without willful intent, the phrase 'a regional, eclectic label' seemed the most concise and true way to describe its musical direction, or directions," explained Woodard. "As we're all interested in a wide array of musical styles, from experimental noise to pretty tunes, it made sense to include that range in the mix. I would say, though, that a certain attitude prevails throughout the catalogue, having to do with a love of traditions, but also a love of tugging and tweaking existing styles; searching for a new way to approach music. Nothing is straight down the middle, including our approach to free improvisation and digital sound collage."
While Household Ink certainly celebrates its love of experimentation, the "pretty tunes" to which Woodard alludes include a handful of carefully polished pop gems — including Christensen's recent release, the effervescent Where the Fireworks Are. Having sung with everyone from Leonard Cohen to Lou Reed, and having recently been an intricate part of the Hal Willner-produced tributes to Cohen, Christensen had played the role of the Polka Queen at several infamous Headless Household gatherings. So when it came time for Christensen to turn her attention to creating a new album of her own, it was at the door of Woodard's household where she went knocking.
"When I started working on the project that became Where the Fireworks Are, I looked to Joe and to Tom Lackner, with whom I'd done some gigs," recalled Christensen. "I told Joe that I would do anything for him and his muse … including sounding like Mary Poppins on speed! But I asked if we could please retire the Polka Queen in favor of this folk-art-rock thing I had in mind. Joe said he and Tom took 'about 30 seconds' to decide to jump on board. Many side roads and almost three years of hairpin turns and bumpy creative hills later, Fireworks became the second of two of my albums to be harbored on the Household Ink label."
On Monday, December 3, Household Ink's meandering jazz riffs, poignant soul, pristine pop, and polka queens will be brought to Center Stage Theater as part of Headless Household's 18th Annual Xmas Concert. The night will feature S.B. luminaries, such as Dick Dunlap, Lackner, Woodard, Christensen, Tom Buckner, David Piltch, Glen Phillips, Sally Barr, Kenny Edwards, and Bill Flores. And don't be surprised if a special guest or two drop by to join in on the fun. And while he and his charges might now be two decades into the Household Ink journey, Woodard doesn't envisage the adventure ending any time soon.
"Household Ink was one of those projects that came out of nowhere, really, and without any intention or direction," mused Woodard. "Suddenly, we're 20 years into it with more than 30 titles in multiple genres, yet it all seems both strange and logical. It all comes down to the idea that, for those afflicted with the need to make music, music must happen and be made manifest in the world. As long as that impulse propels us, I don't see the end of the Headless Ink story anytime soon."
4•1•1
Headless Household's 18th Annual Xmas Concert will take place on Monday, December 3, at 8 p.m. at Center Stage Theater (751 Paseo Nuevo). Tickets are $9-$12, and can be purchased by calling 963-0408 or visiting centerstagetheater.org.
---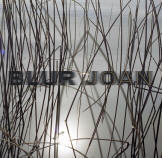 re: Blur Joan
Cadence, Oct. 2006
HEADLESS HOUSEHOLD,
BLUR JOAN,
HOUSEHOLD INK 137.
Blur Joan / Plaything / Brownie / Ambushed By Serenity / Then
Was The Time / Babble / Bluer In The Face / Buffoons (Let's
See?) / Door Of The 4/3 / Monk's Day Off / Walk Cycle / Sunday
Go To Meetin' (Dream on Your Time). 63:33.
Dick Dunlap, kybd; Tom Lackner, perc., elec.; Joe Woodard, g; Tom Buckner, ts, cl; Jeff Kaiser, tpt; Claudia Kiser, cel; Sally Barr, vln; Bill Flores, pedal steel g, David Piltch, b; Jim Connolly, b. no date listed, Santa Barbara, CA.
Santa Barbara, California, a hot bed for creative music? Well, that may be an overstatement, but like many towns throughout the world, there is creative music to be found seemingly everywhere. Hailing from Santa Barbara is Headless Household, an eclectic ensemble. For Blur Joan, their seventh record released, the quartet becomes a trio due to bassist Chris Symer's sabbatical, matching the group with several guests, including alto saxophonist David Binney, trumpeter Jeff Kaiser, and perhaps the most often heard voice, saxophonist Tom Buckner. Soundwise, it is an eclectic and surprisingly alluring program that covers a variety of genres that, while certainly experimental, remains accessible.
The group's interest in the fusion of electric and acoustic touches is seen from the outset on the Indian tinged "Blur Joan," with Woodard and Buckner sharing the theme amidst the blips, hums, and percussive touches or likewise, on "Plaything," a joyous romp that puts the focus on Dunlap and Kaiser's muted trumpet. The most impressive of these trials is "Door Of The 4/3," an ominous, yet hopeful piece of Americana, tastefully manipulated and featuring striking work from Binney and cellist Claudia Kiser. The program also has the group in acoustic mode on several tracks, including "Then Was The Time," a midtempo Jazz waltz for sextet with Binney and Buckner's horns mixing with Woodward's fluid guitar work. The quirkiest piece of the program, though, is "Monk's Day Off" that oddly commences with tinges of Satie before settling into a lush tenor ballad then, what the heck—it sounds as if Monk himself woke up from a nap
and provides an off-kilter interlude before the lush romanticism returns. Worth noting is also the strong work throughout from Woodard, whether adding acoustic guitar touches on the ECM-like "Ambushed By Serenity" or the nasty Blues of "Bluer In The Face."
Though not every track is compelling, with the funky "Brownie," or the countryish vocal-lead "Sunday Go To Meetin' (Dream On Your Time)" proving less exciting, these complaints are minor. Overall, a quirky--in a good way--outing from a group that is certainly charting its own course.
--Jay Collins
Long-running Santa Barbara eclecto-jazz weirdoes Headless Household have simmered all their exotic flavors into a very palatable goulash called Blur Joan (Household Ink). Joe Woodard, Dick Dunlap and Tom Lackner really orchestrated this one, and with the help of brilliant friends (Dave Binney, Jim Connolly, Julie Christensen et al.), swing and waltz and reggae and sound effects unite — natural, warm and full of protein.
--Greg Burk, LA Weekly, May 10, 2006
www.laweekly.com/music/beauty-noise/dont-deport-him-yet/13465/#Continuation
What the band has going for it is solid musicianship and an admirable willingness to toss in whatever strikes their fancy.
--Aaron Steinberg, Jazz Times, July/August, 2006
---

Santa Barbara Independent, issue: Dec. 7, 2006, www.independent.com
Funky but Chic
By Charles Donelan, December 6, 2006
Headless Household. At Center Stage Theater, Monday, December 4.
Reviewed by Charles Donelan
<![if !vml]>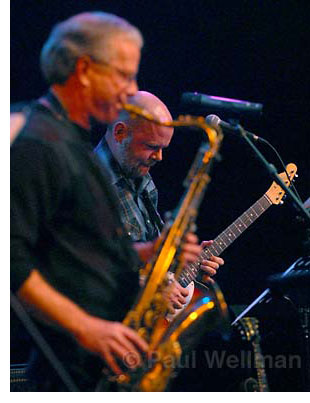 <![endif]>
With little in the way of advance advertising and no discernible media hype, Joe Woodard's Headless Household consistently fills Center Stage Theater for an annual Christmas concert that doesn't include any Christmas music. This seeming paradox makes perfect sense when one sees the crowd that turns out—they have almost all known each other for the 20 or so years this venerable Santa Barbara tradition has been in existence. It is a tribute not only to the extended family of musicians involved, but also to the audience, proving the siren call of the Household's wild amalgam of free jazz, honky-tonk, polka, waltz, and Americana retains its grip. The core members of Headless Household are Dick Dunlap, Tom Lackner, Chris Symer, and Joe Woodard, who writes most of the fascinating and eccentric charts, many of which fell to the floor promptly upon the musicians' arrival onstage.
The first thing to understand about the Household's music is that when they announce a genre—say, polka for example—that hardly means they will stick to anything much resembling a traditional polka, or even that one of their polkas will sound much like another. For example, the opener, "Pig in a Polka," was very different in mood and tone than "Splinkety Polka" from later in the first set; "Bolka," from the second set, was different again.
What unites these disparate approaches is a commitment to the sound and values of free improvisation. Tom Buckner is a gifted reed player who brings the gamut of post-bop techniques to his sly participation on tenor sax and bass clarinet. Sally Barr swings on the violin and sings like a dream on the Americana medley. Julie Christensen tackles the clever, knotty lyrics that accompany about half the numbers with great wit and style. Like almost everyone involved, she also looks like she is really having fun up there. Her performance on the madcap "Here's to the Heimlich Maneuver" was a rousing highlight of the evening.
Joe Woodard's compositions carry their myriad influences with easy grace. On the newest piece, his avant-gutbucket guitar blended with Tom Lackner's funky percussion in a way that recalled the Latin Playboys' project Los Lobos. Everything that gets thrown into this musical blender seems to belong there, from the rinky-dink electronic musical toys on Dick Dunlap's song "Plaything" to Jim Connolly's fabulous musical saw. Here's to many more years of this unique Santa Barbara tradition.
---

Life
IN CONCERT: New Music from old quixotic band

STANLEY NAFTALY, NEWS-PRESS CORRESPONDENT

Christmas comes early with one of Santa BarbaraÕs elite musical groups, Headless Household, which presents its 17th annual holiday concert tonight at Center Stage Theater. From left is keyboardist Dick Dunlap, drummer Tom Lackner and guitarist Josef Woodard. Not pictured is bassist Chris Symer.

December 4, 2006 8:18 AM
Headless Household, Santa Barbara's 23-year-old, won't-go-away and can't-be-categorized, New Music band, is hugely entertaining and will present its 17th annual Christmas concert tonight at Center Stage Theater.
The ensemble's roots go back to the early 1980s when keyboardist/pianist Dick Dunlap and drummer/percussionist Tom Lackner were playing free-form music at Beaudelaire's on State Street.
Dunlap, who was teaching art at UCSB, was interviewed on the subject of sound-art by guitarist and journalist (and regular News-Press contributor) Josef Woodard and things began to coalesce. The addition of Chris Symer on bass completed the process and, in 1983, Headless Household was born.
This is a complex musical aggregation whose takes on various musical forms are fascinating. Each of the members is a solid professional -- a musician whose experience encompasses pop, jazz, classical, rock, and as-yet-undefined musical disciplines.
The first three members, Dunlap, Lackner and Woodard, remain the core of the band (Chris Symer, the fourth charter member, has since moved to Seattle but will be here for this concert). And after nine years of contributing occasionally, vocalist Julie Christensen is approaching full membership.
To a question regarding why the term New Music is almost always associated with Headless Household, Dunlap said, "23 years ago, when we formed the band, New Music was a fairly well-defined term. A group of New York musicians, including John Zorn and Phillip Glass, were producing a 'new' music with classical and jazz roots and mixes of genres like Speed Metal."
Woodard added, "The meeting of musical worlds that weren't supposed to be together -- those kinds of combinations are what Headless Household was meant to be about."
Lackner said, "An important dynamic in the band is that Joe and I are interested in so many kinds of music, and, when we find a hook that might work, like our recent polka thing, we bend it a little and bring it to Dick. And he's so much his own person that he does his things to them and they can't help but become Headless Household."
"He doesn't know it but he's the heart of the band," said Woodard.
At its best, Headless Household is an electro-acoustic organism with Woodard's unadorned guitar rising out of the bed of sound laid down by the piano and drums. The acoustic piano and bass become humanizing factors, adding to Christensen's vocals.
One of the secrets, perhaps even from the players, to the quartet's essential nature is that, in this busy world, there is never time to fully complete plans for the finishing touches to a new piece. But on the plus side, this often results in phenomena like the purity of the aforementioned guitar solos.
Among the dozen or so friends of the Household who will sit in at the concert are Tom Buckner on reeds, trumpeter Jeff Kaiser, pedal steel guitarist Bill Flores, Kenny Edwards on mandolin, violinist Sally Barr and cellist Claudia Kiser.
The show will feature music from "Blur Joan," the group's latest album. It goes many places and is open-handed and honest as it presents a musical mèlange with an attitude of "Here, take this seriously."
Headless Household's 23-year-long experiment has been, so far, a successful one.
HEADLESS HOUSEHOLD
When: 8 tonight
Where: Center Stage Theater, upstairs in Paseo Nuevo
Cost: $10 general, $7 seniors and students
Information: 963-0408 or www.centerstagetheater.org
COURTESY PHOTO
---

re: post-Polka
"post-Polka brings Nino Rota, Frank Zappa and Bob Wills together in a
Bavarian Beer Garden... Bob's pants are wet of course."
--David Fontana, musician-artist
http://www.theshywriter.com/Folk/Power-folk/HEADLESS_HOUSEHOLD_post-Polka.html
Artist Home | Folk | Power-folk | HEADLESS HOUSEHOLD: post-Polka
"One of the last unexplored realms of Americana is the rich and colorful tapestry of European-American polka music. Charlie Mingus was to have said, `White man, study your polkas.' Here Headless Household playfully has opened the songbook...This project is buoyant, contemporary and original. Influences from the German, Polish, Scandinavian, Tejano, Klezmer and American Country/Western polkas are obvious. Yet all of these elements kaleidoscopically dance and blend in a joyous celebration of life and music..."

--Greg Drust, Milwaukee-based Polka DJ/ scholar, in his liner notes for "post-Polka"

For its sixth feature-length album, Headless Household gets deep into the business of polka, as theme, variation, and landing strip. This Santa Barbara, California-based band has been around and kicking, and occasionally lapsing into a void, since 1983. It started out with only a vague notion of direction, and has so remained. Along the way-so far--the band has brushed across elements of jazz, free improv, surf music, lyrical ECM-ishness, noisephonics, soupy balladry, faux Euro sounds, C&W, and, of course, polka. That tendency revealed itself on the 1987 debut album, with the tune "Isle of Hugh."

Headless Household's idea of polka revolves around the conviction that polka is a great music, and a style easily molded into new, experimental forms, with humor sauce on the side. Sincerity and slipperiness add up to a new polka house blend. Noted photographer Richard Ross, who has kindly supplied the two previous Headless Household CD cover images (Free Association and mockhausen) lends his weirdly perfect, dream-colored cover image to the project.

The musical map of post-Polka includes more-or-less straight polka tunes ("Days of the Week," "A World Without Polka," "Spencer the Polka Dispenser"), but also touches of cumbia ("Puck's Polka"), a moody art-pop-polka number ("Moderate Moderation), an actual waltz ("Of Waltzes"), and instrumental side trips ("Wyatt's Burp," "Picture of Health," the digital deconstruction piece "Divertimental" and the surprisingly tender closer, "Bolka"). Also included are two tunes ("We're On Another Level," "Turnip of the Year") from the musical Turnip Family Secrets, by Joe Woodard and Michael Smith.

The album's two-year recording process unfolded first at the popular and now defunct Riviera Studios, with Wayne Sabbak at the helm. Later, operations moved up to the studio-with-a-view known as The Tompound. The core band (Dick Dunlap, keys, Tom Lackner, percussives, Chris Symer, bass, Joe Woodard, guitar/songsmithing) got plenty of help from gifted guests. Lead vocalist Julie Christensen's diverse resume includes work with her band Divine Horsemen, vocalizing with Leonard Cohen, and her own solo recordings. Here, she latches onto the polka spirit heartily. Glen Philips, formerly of Toad the Wet Sprocket and now of Glen Philips, sings in a moody-cool voice on "Moderate Moderation" and "Of Waltzes," and Spencer Barnitz sings bouncily on the sort-of custom-made "Spencer the Polka Dispenser." Ellen Turner, Allegra Heidelinde and Shelly Rudolph are designated as vocal "polkettes."

Blues harmonica wizard Tom Ball inserts choice licks and Bill Flores atmospheric caulking on pedal steel, along with fine playing by trumpeters Jeff Elliott, Nate Birkey and Jeff Kaiser, violinist Sally Barr, and all-purpose reed player Tom Buckner , working wonders on sax and bass clarinet. Guest bassists Jim Connolly, David Piltch, and Kenny Edwards also pitched in.

In short, it was a time-released polka party posse. Thanks for listening. Hope ya' like it.


"Hailing from Santa Barbara, California, Headless Household achieved regional cult status by the late 1990s, thanks to their quirky and eclectic kind of new music, their relentless live shows and a string of albums all released on the band¹s own label Household Ink."
--All-Music Guide (www.allmusic.com)
issue: Dec. 15, 2005. www.independent.com
State Street
Head of the Class

NOT SOME BORING TRIO: Center Stage Theater underwent a sonic remodeling on Monday, as the Headless Household—with Joe Woodard on guitar, Dick Dunlap on keys, and Tom Lackner on percussives, plus close to a dozen talented musical aides—dropped its annual December dose of jazz eclectico. The blast-off was "Plaything," an aptly titled Dunlap number that featured Lackner playing children's squeeze toys before delivering the most adventurous drum beat ever imagined upon a plastic Playskool drumset. Woodard, his face frozen in the "look-what-I-made" smirk, walked around handing out various childish noisemakers, and the night—comprised mostly of songs from the new HH album Blur Joan—was rolling.
Filling in for founding bassist Chris Symer was the rotating duo of Jim Connolly and David Piltch, and the role of vocalist was shared nicely between Julie Christensen's voicebox and Tom Buckner's singing sax. Rounding out the guests were Jeff Kaiser on trumpets, Bill Flores on pedal steel (perfect for "A World Without Polka," one of the older faves), Tom Ball on harps, and, on elegant strings, cellist Claudia Kiser and violinist Sally Barr.
The night's 14 songs ranged from the twangy paced "3 a.m. Western" and the more pensive "Buffoons" to the R&B fun of "My Left Brain" and the frenetic "Blur Joan," which showed off Lackner's ability to produce a rapid rhythm that even crystal-meth heads could dig. And leading it all was Woodard, whose guitar mastery allows him to use his instrument as subtly as a conductor's wand or to take center stage, using a slide to emulate sounds of a deejay scratching vinyl or plucking ever so tightly to evoke the internal monologues of a computer. What a weird, wonderful, wacky wreck, once again. —Matt Kettmann
---
re: Headless Household, post-Polka
from Splendid e-zine
http://www.splendidezine.com/review.html?reviewid=10752027371836
Like klezmer, polka has seen a recent spike in popularity thanks to its inability to be dreary. The simple one-two-three rhythm and high-register horns and woodwinds of traditional polkas lead to flights of giddiness, not drudge, which may explain its appeal as a decidedly old-school antidote to the new American grunge. Although polka has always been an element of Headless Household's repertoire, guitarist Joe Woodard shepherded the band down the path of a polka-themed album over the past two years. The result is the aptly-named Post Polka, a mix of updated standards, skewed homages and deconstructions of the classic polka form.
Almost every song here benefits from unusual arrangement or instrumentation choices, veering closer to a Soul Coughing fever dream than a classical polka album. But while this isn't your grandparents' polka, it isn't Weird Al's pop-culture mockery, either. Headless Household are men who understand the need to balance irreverence with reverence, who realize that the clarinet can be ominous, who know that clowns are scary. You may laugh with Post Polka's selections, but you'll never laugh at them -- Woodard and his bandmates are too deft for that. Instead, you may find yourself charmed by the cabaret-style "Days of the Week", bobbing your head to the jazzy waltz of "Wyatt's Burp" and rocking out to the crunchy guitar and oompah oomph of "Here's to the Heimlich Maneuver". You may even find yourself aspiring to join the "polka party posse" of "Spencer the Polka Dispenser", accompanied by whispering backup singers and a blues harmonica. Or, if you're as disturbed as I am, you may find yourself unintentionally turned on by former Leonard Cohen collaborator Julie Christensen and the "Polkettes" as they vocalize an eerily seductive meditation on the pigs-as-love-metaphor in "Puck's Polka". (Never before has a woman punctuating her verses with a comely "oink oink" been so alluring...)
When Headless Household stray farthest from the polka blueprint, as on the delightful jazz-rock fusion of "Picture of Health", they produce the album's most impressive cuts. "Divertimental" is a semi-orchestral recasting of "Puck's Polka" as recalibrated by running the original sheet music through a computer program. And the string-and-xylophone heavy instrumental "Bolka" is a delightfully moving closer. And for indie head-scratchers everywhere, former Toad the Wet Sprocket frontman Glen Phillips lends his voice to a pair of tracks, including the Burt Bacharach-esque "Moderate Moderation".
It goes without saying that Post Polka is not for everyone. Not only do you need a healthy admiration for Eastern European music -- or at least a healthy indifference toward it -- to appreciate Headless Household's revisionist take, but a willingness to expand your horizons and a broad sense of humor will help immensely. Still, despite the relative taboo of polka itself among the "forget where you came from" generation, I'd recommend Post Polka to anyone willing to wrap their head around it. After all, when's the last time you heard an album that refused to let you down?
http://www.nostradamus.net/polka_page.htm
Post Polka
(Headless Household, Household Ink HI-133) I'm impressed that a terrific free-jazz ensemble would put out a polka album. These guys are really good; if only they leaned a bit more towards the polkas and bit less towards the free jazz, I'd like this album more. In spite of my rating, if you're interested in the nexus of jazz and polka, buy this CD. C [1-4-04]
--Barry Nostradamus Sher
(Santa Barbara Independent, 12-11-03)
Post - Mod Polkarama
Celebrating 20 Years of Headless Household
by D.J. Palladino

We can rock," said Josef Woodard, my Arts writer colleague and guitarist nonpareil of that super-longitudinally blessed band—in business now for 20 years—wisely, whimsically dubbed Headless Household.
"Yes, we can," agreed sound artist and keyboard-playing bandmate Dick Dunlap, waxing unusually gregarious as we huddled in his Mission-area studio, a converted carriage house that was the band's birthplace back when a former Hollywood actress ran the country based on horoscopes. Perhaps only Ernie and the Emperors can claim more epic historical sweep in city music spheres.
"But it's rock-ish," explained Woodard, glancing around the computer- and keyboard-crowded room, smiling happily. "Everything we do is -ish."
And now the usually fusion-ish four have gone all polka-ish, too. Co-starring the insistent, melodic drums of Tom Lackner and wondrously variegated bassist Chris Symer, Headless Household's sixth album, entitled post-Polka, explores a seemingly lumpen musical realm with joy. One which they promise to perform with éclat and a lot of help from their musical friends at their annual holiday show at Center Stage next Monday night. "I take total blame for this one," laughed Woodard, confessing at length his inordinate care for the one-two, one-two polka beat that originated in Germany but stretched across the American heartland and into Tex-Mex dancehalls. First motivated by the great former KCSB disc jockey Greg Drust's once-weekly polka show, now heard on Internet radio, Woodard found it hard to shake the music. "I found myself bumping into Lawrence Welk on television and loving it," he said. "Myron Florin was great," said Dunlap of Welk's famed co-accordionist.
Woodard even felt compelled to make an entire record of it. Though they have a few polka tunes in the repertoire, it wasn't exactly a band slam-dunk. "When I first came up with the idea, these guys didn't believe it would be an album," said Woodard. But he remained faithful. In his witty and acute liner notes, Drust reports that Charlie Mingus once advised freely, "White man, study your polka." This being Headless Household, they not only studied it, they took it apart and put it back together fixed-ish.
"Speaking for the elitist members of the band," half-joked Dunlap, "I have to say it was a little scary. We agreed to do it, and then found out as a surprise we could do it pretty well," he said. And it's reflected in the approaches.
The disc opens with a favorite old Household song called "Days of the Week." Sung by the glorious Julie Christensen, who once warbled backup for the meticulous Leonard Cohen, it freezes the correct amount of Kurt Weill—art song at the cabaret—then segues into "A World without Polka," which takes Weill out into the stratosphere, stratocasting. The stage thus set, a number of fabulous music scene irregulars turn in depth-defying investigations of the form. People like Glen Phillips, Spencer Barnitz, Nate Birkey, Jim Connolly, Ellen Turner — and Bill Flores on pedal steel. "We even had Tom Ball on the record," said Woodard of the popular country blues harmonica-man. "He heard a cut at the Riviera Studio and asked if he could do something on the record," said Woodard. "And he sounds great," said Dunlap.
Among the more remarkable departures into sonic space, however, is "Divertimental," which was contributed by drummer Lackner. "It has a very interesting story," explained Woodard. "Tom's father [the late German novelist Stephan Lackner] once wrote a polka, called "Puck's Polka"—Puck was his wife's nickname." Lackner fils found the sheet music and the band recorded a version of the song, which is also on the record. But then Lackner ran the song through a computer program. "He deconstructed it, and gave it to us. It's really beautiful."
Household History
The Household is frequently compared to the likes of Steely Dan, Captain Beefheart, the Band, Ornette Coleman, and lesser known luminaries like the Golden Palominos and Penguin Café Orchestra, who all influenced, no doubt. In a way it all began with Woodard, who grew up in Santa Barbara and even played a lot of Bad Company in a garage band with Symer while attending San Marcos. After high school, the polymath Woodard began playing in bands while working toward a career as an Arts writer. (He writes fluently in languages as diverse as award-winning jazz criticism, film history, and contemporary art, in Santa Barbara as well as such national magazines as Downbeat and Guitar Player.)
During these twin pursuits, Woodard, who was breaking away from playing in Top 40 bands, met Dunlap while writing a cover story about sound artists for the L.A. Reader in the late 1970s. Dunlap had moved to the city with his wife Arlene—an up-and-coming star of the art world who painted—then suddenly became obsessed with noise. He and artist friends and a sound-on-sound recorder began experimenting on the edges of sonic frissons, using everything from long hollow tubes to rubber-band snaps. Lackner, who grew up between Montecito and Germany, was already spread impressively over the music scene. Nobody quite agrees who introduced whom, but by 1983 they were already gigging on the Mesa at Baudelaire's. "Claire Rabe was a great supporter of what we were doing then," said Woodard, referring to the much-lamented club owner and novelist who died last fall.
They began recording right away, too. "I'm the least of the musicians in the band," said Woodard, "but somehow the one who writes the most. It's my outlet," he said, and I guess he means away from the arduous strains of writing about the arts. "I give them what I've got and then Dick fixes my mistakes," said Woodard. The rest of the players in this open band are people from the music scene who draw themselves toward the group by either accident or inclination. "We're always looking for excellent musicians who aren't afraid to make fools of themselves," said Woodard. Many of these motley virtuosos will be at the Xmas fest on Monday, December 15.
In the meantime, Woodard seems happy with the polka fix and happily the band has begun to move along, too. "Dick loves polka now," said Woodard, laughing. "We've already recorded a couple of tracks for our next project," he said. "But this next stuff will be a lot more normal," said Woodard.
Of course, he probably means a lot more normal-ish.
Headless Household performs Mon., Dec. 15,
8 p.m., at Center Stage Theater. Call 963-0408.
(S

anta

B

arabara

News Press, 12-12-03)

PAUL WELLMAN
Headless Household core group, from left: Joe Woodard (guitar), Tom Lackner (drums) and Dick Dunlap (keyboards). Not pictured: Chris Symer (bass)
Polka in the house
HEADLESS HOUSEHOLD MIX JAZZ AND POLKA FOR 20TH ANNIVERSARY CONCERT
HEADLESS HOUSEHOLD'S 20TH ANNIVERSARY CONCERT
When: 8 p.m. Monday
Where: Center Stage Theater, upstairs in the Paseo Nuevo mall
Cost: $10 general; $7 students
Information: 963-0408 or www.centerstagetheater.org
By Ted Mills
NEWS-PRESS CORRESPONDENT
Headless Household may be Santa Barbara's worst-kept secret or its best-known unknown band.
For 20 years this quartet of quasi-jazz, post-post-rock musicians has been flying low, stealth bombing musical weirdness into our fair city with a handful of CD releases and a series of annual concerts at the Center Stage Theater. The drummer, Tom Lackner, comes from the great Lackner clan of artists who make their home here. Keyboardist and sonic manipulator Dick Dunlap is an award-winning composer. Bassist Chris Symer has been gaining a reputation among the South Coast music scene - especially since the Knitting Factory has opened up a space in Los Angeles. And guitarist and lead idea man Josef Woodard is a journalist whose work regulary appears in Scene and the News-Press. (Full disclosure: The band, in altered form, wrote a beautiful soundtrack for my short film in 2000.)
The Household make a sound located between uncompromising and twisted, guaranteeing their cult fame and obscurity. On Monday, the band will not only celebrate 20 years of Headlessness, but also promote its latest CD, "Post Polka," a collection of straight-up polka tunes and deconstructions thereon.
They're jazz fans, yes. Listen to their wild workouts on 2000's "Mockhausen." But, polka? Where did that come from?
"This polka bug may have started with the fact that I was born in Iowa and have German blood, which makes me predisposed to the oompah impulse," says Woodard, who had to slowly convince the others of this new direction.
And in fact, the polka has always been a part of the band, just very hidden. "Isle of Hugh," from its debut eponymous album from 1987, is a polka tune. "Pig in a Polka" is another, from 1999's "Items."
"I just love the defiant cheer of this music," he says, "and the musicianship you find tucked into those bright-colored upbeats. It has none of the angst, irony, or world-weariness of most pop music. That's a good thing."
Woodard is also quick to point out that polka is never that far away from us in Santa Barbara. "It's almost invisible, until you realize that much of what you hear on KSPE is the Mexican variation on the polka groove, through the styles of Tejano and Tex Mex. That's some of the most exciting accordion and trumpet and tuba playing you'll hear in public, in Southern California! Distorted guitars are way overrated: This is the real musical hot sauce."
The tunes on "Post Polka" are hot, yes, but also bathed in a cool, wistful, blue light. Headless Household, and Woodard's compositions especially, even when they're blazing head on, contain a melancholic tone. It's as if the joy within has since been and gone, and all that's left are the memories to sing about. This is balanced by Woodard's penchant for playful lyrics, hinted at from the song titles: "A World Without Polka," "Wyatt's Burp," "Splinkety Polka" and "Here's to the Heimlich Maneuver." Also of note is "Puck's Polka," a tune written in the 1950s by Tom's father, the late Stephan Lackner. Tom created a variation on the tune later on the album, called "Divertimental." Listeners might also detect the influence of Kurt Weill, whose own angular take on pop conventions shadow the CD.
"Weill is definitely one of my biggest heroes," Woodard admits. "Few people had such a clear grasp of how flexible popular music could be, and how it's possible to inject experimental harmonic ideas, polytonality and seemingly strange materials without skipping a beat or scaring away more conventional listeners. You can hear his influence on Bernstein and Bacharach and Zappa and Bill Frisell and too many American oddballs to mention."
That list of artists, give or take a few ingredients, makes up the primordial soup from which the Household arose in 1983. At the time, the goal of the quartet was to "play music that nobody else was playing in town." This was the time of the New Music scene in New York. John Zorn, Eugene Chadbourne and Bill Frisell were playing gigs. The Knitting Factory opened. "Jazz was fusing with post-punk, avant garde noise, European cabaret, and any other inkling you could make fit into a package," Woodard notes. The Southern California jazz scene was awash in slick fusion. Headless Household set out to bring that New York sound to town and be anti-slick.
"I should say it helped that the beloved bohemian club on lower State (Street) known as Baudelaire's - run by Claire Rabe, who just passed away - partly made it possible. She gave us encouragement and a place to work out this evolving organism."
It took until 1987 for the band to release their first album, back in the days when there were no CD burners or cheap deals - vinyl was an expensive proposition. "I'm sure it helped solidify our identity enough to keep us plugging along all these years. Live shows are great to do, but recordings are forever," Woodard says.
Monday night's concert returns the band to the Center Stage Theater, a locale that has been kind to Santa Barbaran artists of all kinds. "We were getting tired of playing in noisy clubs with patrons who might understand what we were up to - or just as often not. We also wanted to be in control of the performance setting," he says. It will be their 14th appearance there, and Woodard fondly remembers the first concert, performed on a stage set for a current production of "A Christmas Carol," "a bleak London ambience offset by our strange amalgam of avant and Americana sounds"
As is typical with Household events and albums, the show will feature a who's who of Santa Barbaran musicians: trumpeter Nate Birkey, bassman Jeff Connolly, vocalists Glenn Phillips, Ellen Turner, Julie Christensen, and Allegra Heidelinde, bluegrass musician Tom Ball, saxophonist Tom Buckner and many more.
With so many guests, isn't the band worried that it'll be obscured?
"We've always had this problem of being into music and musicians and wanting to keep our identity flexible enough to include others in our strange, non-exclusive party," Woodard says. "It's the 'polka posse' sensation. We really should just see if we can do an album on a members-only basis, like we did in the beginning, when there was a lot more free jamming. Maybe that's the next one. But probably not."
(from the South Coast Beacon, 12-18-03)
http://scbeacon.com/beacon_issues/03_12_18/repeat_entertainment2.html
Still Headless after all these years

By Daniel Okamura
South Coast Beacon

Few bands could say they've enjoyed constant success traveling outside the beltway of commercial music. Nearly none could maintain an audience playing just one or two concerts a year, especially playing music that delves into discord. But whatever tools Headless Household has used to carve its niche seem to have created an enduring gravure as the band busily celebrated its 20th anniversary this year with a new album, "post-Polka," and three gigs within the past month and a half. Joe Woodard, guitarist and main composer for the group, sheds some light on the band's eccentric success.

Daniel Okamura: How did Headless Household get started?

Joe Woodard: Back in the early '80s, we were four musicians doing various things and … we all felt that we wanted to create a band that was completely different from anything we were doing or hearing in Santa Barbara. … It was sort of a coming together of people, of experimental musicians who wanted to try something fresh.

DO: What has this year brought for the band?

JW: Well, this year is kind of a big year for us in that this album took a lot of effort — it basically took two years. … I'm really gonna send it out and see what happens with this one. I think it might have more of a commercial life than our other albums, which tend to be more eclectic and hard for people to get an easy handle on.

DO: There are certainly more vocal tracks on this album.

JW: That's true, and we might get criticized for that by some people in the more experimental and the new music world. C'est la vie (laughs). I believe you can mix it all up and get away with it.

DO: (The polka tunes) sound like they could be in a Danny Elfman film score. Are any of you Oingo Boingo fans?

JW: It's more a matter of being influenced by the same things that they were. Like, I know that they were big Frank Zappa fans, and that certainly describes us. … But I would say that … as crazy as they could be, everything was pretty neat, whereas we like to get sloppy at times. … It's almost like dancing on the verge of chaos without succumbing completely.

DO: What changes has the band seen in the last 20 years?

JW: I should qualify that by saying that a lot of years, we only played one concert. … Part of it was our changing environment because when we started, there were more places to play this wacky stuff.

DO: Was Santa Barbara's music scene more open then?

JW: I think so. I think we grew out of that. Like, there was this great little quasi-Bohemian club called Baudelaire's. … And it was run by this poet and novelist, Claire Rabe, who just passed away a couple months ago. ... I think that was more typical of that era. It was just more open and liberal. You didn't have to fit into a specific style or play dance music and so that suited us perfectly.

DO: So what keeps Headless Household together?

JW: It's probably the sparseness of our creative time that we put into this. It basically happens in concentrated doses. … If we were playing this all the time, I'm sure we'd burn out. Members have quit before, only to come back the next week. I think that there's something about this project that's stubborn and it won't die.

I'm hoping to get this music out there as much as I can while still understanding that some people will just be confused or worse. … I don't want to be a bother to anyone, but I think there are a lot of people out there who are yearning to hear something new.

DO: There are a lot of collaborators on "post-Polka." How did that come about?

JW: That was part of what elongated the process. … What was so exciting, what kept us going in that direction was that all the musicians loved doing it 'cause they just don't get a chance to do off-beat stuff, so when they do, they throw themselves into it.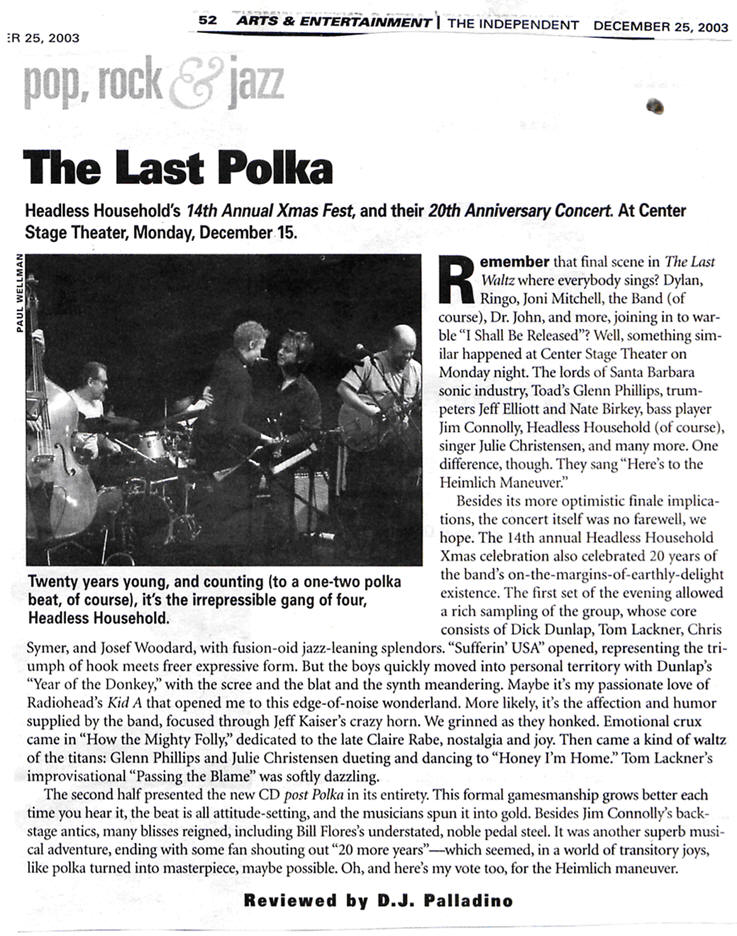 "Headless Household still seems to think that a mind is a terrible thing to waste. Clever without being obnoxious, laid-back without snoozing, their quick-dissolve electric studiohead jazz offers an alternative--not exactly a revolution, more a wink than a nod: We haven't given up, how about you?...Awareness won't get you to heaven, but in this case it gets you pretty far." --Greg Burk, L.A. Weekly

Hailing from Santa Barbara, California, Headless Household achieved regional cult status by the late 1990s, thanks to their quirky and eclectic kind of new music, their relentless live shows and a string of albums all released on the band¹s own label Household Ink.

Headless Household was formed in Santa Barbara (Calfornia) in 1983 by Dick Dunlap (keyboards), Tom Lackner (percussion), Chris Symer (bass) and Joe Woodard (guitars), four friends sharing a taste for the unusual. Their first album (on LP), Headless Household, was released in 1987, but things didn't pick up until their third album Items (1996), still the band's best achievment. Items showcased all the eclecticism and creativity Headless Household is capable of. By that time, the four core members were regularly joined by a cast of guests including jazz trumpeter Jeff Kaiser, violinist Gilles Apap and ex-Toad the Wet Sprocket Glen Phillips. Free Associations (1999) saw the band heading into more commercial territory, but if this change of direction raised a few questions, they were quickly answered by the release of Mockhausen (2000), their most abstract and experimental record to date.

The fact that Headless Household releases its albums on its own record label, Household Ink, sure didn't help them get attention. But by 2000, they were starting to get exposure outside the regional press. — François Couture, All-Music Guide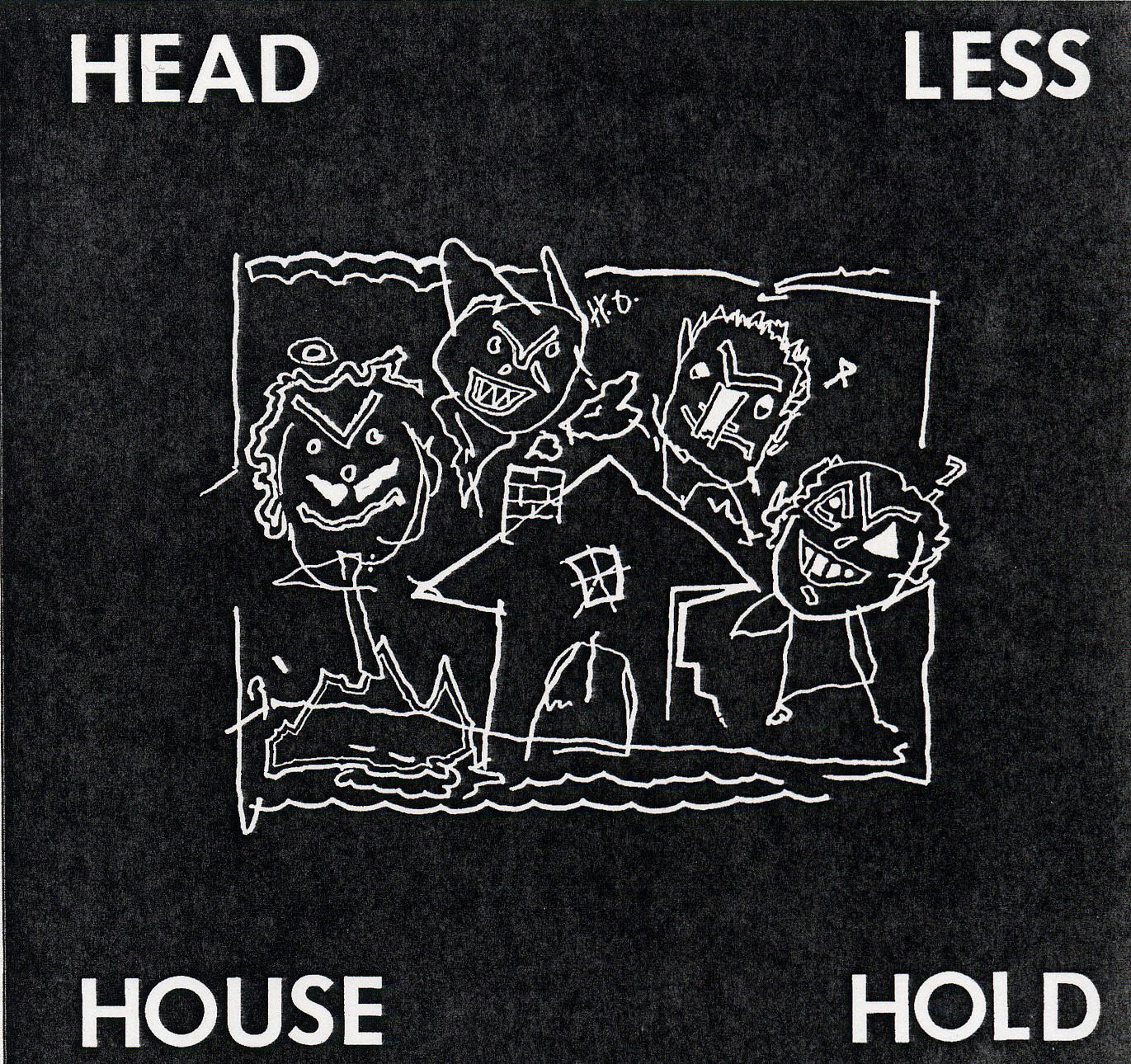 re: debut album (vinyl edition)
"Strange, cool rumblings from Southern California" --Jas Obrecht, Guitar Player.
"Following a private madness, they assemble (musical) nuggets into something great and, sometimes, even important. Using old and new instrumentation and technologies, Headless Household weave through tight turns and time-signatures" --B.H. Hart, Sound Choice.
"It's hard to categorize these guys, though their music's playful, quirky, sometimes downright silly, sometimes quite soothing" --New Music Distribution Service Catalogue blurb.
"This is all very amusing, but next time, I hope that Headless Household goes a little more for the jugular vein, and a little less for laughs" --Bill Tilland, Option.
re: the CD release of their 1987 debut, Headless Household
Was it really 13 years ago that Headless Household released its first album? Santa Barbara's music scene was certainly different then—not as commercially strong, no doubt, but there were probably more places to play and more places to sponge up artistic ideas from fellow musicians. I certainly felt this absence when I saw Eugene Chadboume play two Thursdays ago to a very small crowd at the Roma. A few music freaks, a few musicians passing through, a few Chadbourne groupies ready to buy a baker's dozen of his indie releases. Out there music felt lonely and alone.
Headless Household's 1987 debut feels warm, juices-flowing warm, friends-stopping-by-to-share-a-solo-or-riff warm. You can hear them finding their footing with each other here, developing their sound—an avant-jazz ready to jump into any Americana genre it can think up. Dick Dunlap's keyboards mark the least derivation from original intent—here, as usual, they fill in those empty gaps left by the other three, never really "there" until it jumps into the foreground. Joe Woodard doesn't sound like Bill Frisell yet, but you can hear how he was not too far away from his block even then, with his watery leads and sliding chords. It's also interesting to hear Tom Lackner's progressive drumming so high up in the mix—-but this was the ''80s after all. Ditto Chris Symer, whose bass and Chapman Stick aren't too far in style from Tony Levin. How they've all changed.
Guests include Joseppi Scozzaro, playing accordion on "Isle of Hugh" (the one track with lyrics). Scozzaro was owner of Joseppi's, a much-lamented and sorely missed club where many musical adventures were undertaken—a space now occupied by The Madhouse. Kathy Kelly, who sings vocals on this dizzy polka number, was at the time working with Van Dyke Parks. She, like many others, came to Santa Barbara and stayed.
Several albums and many annual shows later, the Household is still welcoming guests in the band's own subdued way. Check out where it all started.
--Ted Mills, Santa Barbara Independent, 12-14-00
re: mockhausen
AMG EXPERT REVIEW: Mockhausen is everything Headless Household's previous album, Free Associations, was not. The latter was the band's most commercial release in 15 years of existence, but as the pendulum coming back only to go farther in the other direction, Mockhausen is a lot more experimental than any of their first five albums, something expressed in the title itself, a play of words on the name of Karlhein Stockhausen.

Mockhausen is anything but song oriented. Mostly made of collages, this material comes from outtakes, live recordings, found sounds, and free improvisations involving all members of the band and a few selected guests (longtime friends Jeff Kaiser and Dave Binney). This is a big change from the song-oriented, almost entirely Joe Woodard-penned Free Associations, best epitomized by the guitarist's new interest in turntables. Sounds collide and song excerpts overlap in a collage frenzy. Surprise and deconstruction are the two main concepts used, but the listener still has a few moments to rest his ears, like on Dunlap's beautiful piano solo "Elvin" or the jazz ballad closing the album. This is Headless Household at their most adventurous and their best. — François Couture, All-Music Guide

Headless Household answers the unspoken (not to mention icky) question, "What if Negativland and a traditional jazz ensemble were in a terrible plane crash and the emergency room doctors decided to piece together four complete survivors from the bodies and parts found in the wreckage?"

Slapping genre tags on Headless Household has never worked, and Mockhausen is their least categorizable album to date. Though their music is supported by a framework of traditional rock/jazz instrumentation -- keyboard/piano, guitar, bass and drums -- you're just as likely to encounter turntable manipulation and aggressive trumpet-playing. "Opened House" sets the scene immediately, tossing the listener into a roiling melee of found audio, around which mutated, shambolic jazz and rock progressions flail and stagger. "For What Ails You" leans more heavily on its post-rock/fusion foundation, though found audio samples mingle at the feet of the melody. To their credit, Headless Household toss this stuff off effortlessly. Unlike Tortoise, whose compositions often seem to be held together by surface tension and intense concentration, the Household's work is looser, more robust and forgiving, and doesn't seem to take itself so all-fired seriously.

Individual Household members bring their own works to the table. Dick Dunlap gives us "Elvin (Palimpsest)", an unsettling game of cat and mouse for solo piano. Drummer Tom Lackner offers "Re-Opened House," an envigorating and rich tapestry of electro-acoustic percussion sources, filled with unique sonic "characters". And Joe Woodard, the guitarist/turntablist behind "For What Ails You", is also responsible for "Wintry (Invention)", a fairly straightforward, though distantly alien exercise in noir jazz, complete with torch song scatting. But the true joy of Mockhausen is hearing the quartet interact and improvise; these guys have been working together a long time, and it shows in the cohesive mental narrative of "The Feeling of Give".

Mockhausen works because the Headless Household never entirely lose sight of the fact that they want to entertain the listener. There are crucial vestiges of musicality -- hummable hooks, compelling rhythms or amusing samples -- in even the most experimental tracks. However wildly improvisational their music becomes, these guys play with their (metaphorical) eyes open, watching the audience to make certain they're enjoying the ride. This is a crucial distinction, as music in any genre misses the point when it is performed more for the players than the listeners -- a pitfall that the Household dodges.

I like to believe that Splendid constantly pushes readers to expand their musical horizons and try some less predictable music. As part of that bargain, we do our best to identify strong, reliable "starting points" on sonic roads less traveled. If you've been looking for that elusive path out of Musical Blahs-ville (or its suburb, Emo-Town), grab a copy of Mockhausen, sit down with your best headphones on and imagine yourself passing a big highway sign: "You are now leaving Predictable Indie Rock." You may never return.

Oh, and just ignore that plane crash debris in the background.

--George Zahora,

Splendid

re: Free Associations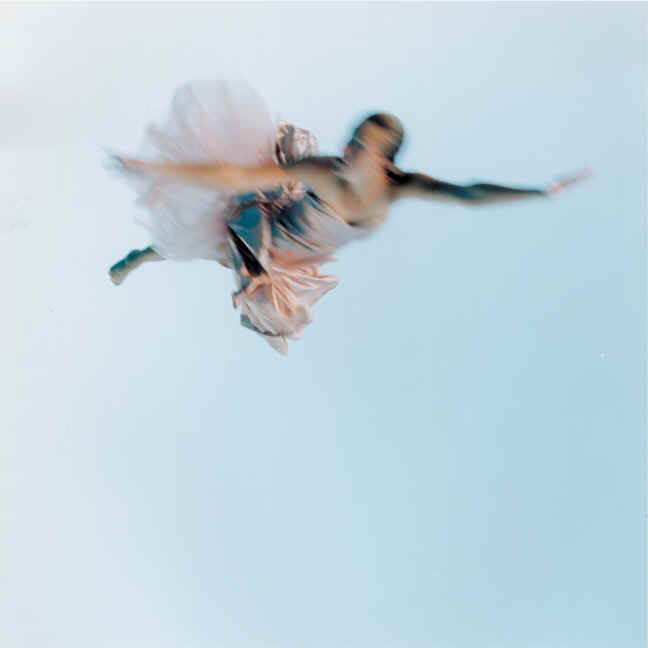 "...The group's third CD release is full of angular lines, tricky meters and "difficult" music that gives way to moments of raw, irreverent stretching ("Tiddly Wink"), modal jams ("Green Swipe Pattern") and pure improvisational cacophony ("Surf Punctuation"). This impossibly eclectic mix suggests a strange meeting of Captain Beefheart, Ernest Tubb, post-comeback Miles Davis, the Band, Ornette Coleman, Carla Bley and Edith Piaf, with touches of Sonny Sharrock, John Cage, Bill Frisell and the Art Ensemble of Chicago thrown in. Music this wildly diverse can never be properly marketed in this age of specialization, but that doesn't make it any less extraordinary. **** (four stars)
--Bill Milkowski, Tower Pulse magazine, Oct. 1999
"Another scintillating release from this Santa Barbara combo, featuring a solid jazz foundation with avant-garde underpinnings. This deft combination produces a characteristically unique album that will please a wide audience with its variety and skill. At one moment, the Household sounds something like a magnificently orchestrated big band ("My Baby Left Brain") and with one quick nod of the head, an anarchical deconstruction of all musical elements occurs ("Laconics 1"), flinging the band into the corners of Knitting Factory experimentalism. And just when you think you've nailed the band into a stylistic pigeonhole, Bill Flores whips out the heavy duty steel pedal gee-tar and the Household goes 100% country, duet-style, with "Honey, I'm Home." ... The monstrous musicianship on this CD could squeeze your feeble brain like a zit, but instead, the group chooses not to will its awesome power upon you. Rather, they befuddle listeners with wry wit, harrowing humour and refreshing vivacity, creating a release that will certainly cure you of the overexposed rock 'n' roll blues."
--Andrew Magilow, Splendid e-zine, 7-13-99
(from www.listen.com blurb...)
Hometown: Santa Barbara, CA, US
"No, Headless Household is not an Industrial band. They sound like Miles Davis playing with the Kronos Quartet conducted by Sun Ra with occasional vocals by George Jones and backup singers from A Man and a Woman. Wonderful and wonderfully bizarre. If and when Twin Peaks gets another stab at prime time TV, Headless Household would be the perfect band to play at the lodge.
Sounds Like: Ween, George Jones, Mark Isham, Kronos Quartet"
Brass Tracks
Free Associations, A CD by Headless Household on Household Ink records
Headless Household make a free jazz noise that sounds like its name--no one of the four musicians (Dick Dunlap, Tom Lackner, Chris Symer, and Joe Woodard) reigns supreme over any one tune, more willing to cede that role over to their ever-changing roster of guest musicians.
Celebrating 15 years of adventurous genre bustin', Free Associations--a title that suggests the numerous musical friends who turn up at this household's door, as much as the improv style that courses through the tracks--is the Household's fourth album and yet another smorgasbord of strange delights.
Headless Household has a way of making Santa Barbara appear to have a happenin' avant-jazz scene, but that's only part of their plan. They can take vocalists Glen Phillips and Marjorie Extract and recast them as country balladeers ("Honey, I'm Home"), or turn Julie Christensen into a Seine-side chanteuse on the Michel Legrand meets po-mo blender "The Eiffel Tower Made Easy." They give Jennifer Terran her chance to front a swing band ("My Baby Left Brain"). Most of all, they can disappear and make believe Headless Household is a brass-led quintet. Blowin' across the entire album are contributions from trumpeters Tom Buckner, Nate Birkey, and Jeff Elliott (who does a fair impression of Miles Davis circa Live/Evil on "Green Swipe Pattern"), and saxmen Dave Binney and Buckner (again). There's also plenty of tasty piano work from Theo Saunders.
Frith-meets-Frisell guitarist Joe Woodard's connection to this fair paper is apparent--you've probably just read his column a page or two back--but who would've thought our own Angry Poodle would guest star on her self-titled track? Sounding like Laurie Anderson late for an appointment, guest vocalist Christensen reads a recent Trixie tirade against anonymity while the band jitters away. They then segue into a stomping Material-ish riff while Jeff Kaiser makes his trumpet yelp, tail between its legs.
What holds this all together is the cerebral spirit of experiment, and the rythmic backbone of Tom Lackner's drums and Chris Symer's bass. And while near the end of many tracks the band may run off, or rather saunter away, in all directions, they always find their way back home. Free Associations is an eclectic treat and a nicely twisted snapshot of our local scene.
--Ted Mills, Santa Barbara Independent, 12-17-98
Fifteen Years Headless
Santa Barbara's finest crop of mixed milieu musicians--Headless Household--is celebrating its 15-year anniversary with a show at the Center Stage Theater this Monday, December 14 at 8 p.m. ($10, or $7 for students or seniors).
The band without a parent is also the (right-brain) child of all four members, a truly democratic anarchy of competing ideas yet congruent concepts, working together in a spirit of sophisticated freedom--an evolving musical proof of the mathematical theory of chaos.
The sometimes jazz, art rock, cabaret, what-have-you band includes Independent writer Josef Woodard--whose project is more "Fringe" than his own column, and whose bandmates--pianist, synthesist, sample wizard Dick Dunlap, drummer and Local Hero Tom Lackner, upright bass and strange string-thing player Chris Symer--equal Woodard in left-of-center sonic shenanigans. They're a quixotic quartet, to say the least.
The latest Headless album--Free Associations--shows the skilled professionalism of these savvy players in their most mischievous moments, incorporating a range of fine musical guests, challenged beyond their usual scope. The surprisingly bold Brechtian folk tones of the usually tender tenor Glen Phillips meshes unique- ly with the plaintive slide of Marjorie Extract's vocals. Jennifer Terran glides over a scat blues, and Julie Christensen gets to sing in Franglais mode over mood-layering musical maestros Gilles Apap on violin and Nate Birkey on trumpet. Even our own angry poodle Trixie is lyrically lifted from in "The Angry Poodle." It's all a good stretch, fine whimsical stuff.
For a first-hand gander and up-front earful of the above diverse talents and more, find your way to the 15-year-young birthday party, the annual live performance at the Center Stage, where surprises can't not happen, and improvisation ripples through the fine semi-structured ensemble like peanut butter marble through chocolate ice cream. It's tasty and brings a guarantee of the unexpected.
--Duncan Wright, Santa Barbara Independent, 12-17-98
---
HEADLESS HOUSEHOLD, ITEMS,

· HOUSEHOLD INK 119.

Fan Fair/Hypothyroid Dough Boy-1/3 A.M. Western (All the Whiskey in China) -3/ Expectators-4/ House Rules/ News Flash (Toronto Blues Society) 5-6/ Dance Peace / (Open Letter to) Manfred Eicher –5/ Ernesta/ In His Absence/For What Ails You (and Slight Rleturn)-4 / Pig in a Polka-2-3-5-7/ Nodding Up Front / Hefty Darlin'-2-5 69:55.

Dick Dunlap, kbds, sequences, samples; Tom Lackner, d, perc, ryl; Chris Symer, b; Joe Woodard, 9; Jeff Kaiser, peck h, tpt-1 only; Nate Sirkery, tpt-2 only; Glues Apap, vln-3 only; David Binney, asA only; Tom Buckner, ts-5 only; Jennifer Terran, vcl4 only; Ellen Turner, vcl-7 only. No location, December 1995.

"Headless Household is the core cooperative quartet of Dunlap, Lackner, Symer and Woodard. Various guests add to the eclectic musical scope of a startling project. "Fan Fair is a sample heavy, sequencer-intense mix that cross-fades into the rather flat funk of "Hypothyroid Dough Boy." Gilles Apap's violin carries the melodic lead of Woodard1s lyrical ballad "3 A.M. Western." The opening three performances reveal this cooperative's challenging scope ranging from fractal freescapes ('tExpectators") to New Age ballads ("For What Ails You/Nodding Up Front); from electronic experiments ("Dance Peace/In His Absence") to jaunty dirge fanfares ("House Rules") or ballads like News Flash" and "(Open Letter To) Manfred Eicher" with its uncanny recreation of the coo yet ush romanticism of the classic ECM sound. Most surprising of all, perhaps, is the smooth relaxed groove of "Hefty Darlin'," a slick and loving demonstration of Headless Household's ability to play with a precision, depth, warmth and ease of feeling that can rival any other outfit in the professional mainstream. Lovely stuff.

--David Lewis, Cadence, August 1998

"From Santa Barbara, keyboardist Dick Dunlap, drummer Tom Lackner, basst Chris Symer and guitarist Joe Woodard are quite a creative group. On this, their fourth recording, they include everything from free improv to straightahead jazz with creative asides thrown in that include comedy, Country & Western, electronic fusion, blues and progressive rock... it's quite an enjoyable mix from this group of talented and creative musicians." --Jim Santella, L.A. Jazz Scene, April 1997

reviews:picks

Headless Household / Items / Household Ink (CD)

"Like groups like Medeski, Martin and Wood, Headless Household's vision of jazz is one of expanding boundaries and eclecticism. Embodying the word fusion in its true sense, Items blends a variety of musical styles rock, funk, country, blues, 70's fusion, surf, polka . . . ) and wraps it up in a not-quite-round, not-quite square package labeled "jazz". This same cut 'n' paste mentality has propelled artists like Beck to success in the rock world -- it's just that Headless Household, true to their jazz underpinnings, do it live on acoustic instruments rather than in their bedroom with a sampler and a four-track (O.K., they do use a sampler once and a while!). For those who are looking for something new and challenging in jazz, this album is worth serious consideration. Rather than 'The Riffs of Parker from A to Z' (which is too often what you get in mainstream jazz these days), Items offers a jazz alternative that is alive and vibrant." --noah wane

AMG EXPERT REVIEW: The title of this album is the best possible description, not only for this particular release, Headless Household's third, but for the entire output of this strange band from Santa Barbara, California. Because Headless Household is all about eclecticism. The band plucks items from a very wide range of musical genres. The album opener, "Fan Fair," sounds just like... well... a fanfare, while the next song ("Hypothyroid Dough Boy") is driven by an angular funk rhythm with a little guitar melody very reminiscent of the theme song from the Casper the Friendly Ghost cartoon. The song then breaks totally free, only to come together once again, this time topped by a dismembered solo from guest hornist Jeff Kaiser. The next tune, "3 A.M. Western," is a beautiful (and very tonal) country/jazz ballad and the fourth a free improv jam.

I won't describe the album track by track, but by now you should get the idea: whatever it is you just heard, there is absolutely no garantee the next minute will be in the same vein. On Items, Headless Household touches mainstream jazz, free jazz, western, polka, some very cheezy things and Zappa-like avant-rocking. The pool of guests musicians appearing on the album also has something to do with this ever-changing sound, adding to Household's basic guitar/keys/bass/drums instrumentation trumpet (Jeff Kaiser), violin (Gilles Apap), alto (David Binney) and tenor (Tom Buckner) sax, even some vocals on two tracks.

Don't think Headless Household lacks direction though. All this variety serves them well and the listener, although often surprised or taken off-guard, doesn't feel lost in Items. These guys know what they're doing and they do it very well. Fans of Frank Zappa and the likes, or simply those who appreciate not being able to predict what will happen for the next hour after the first two minutes of the CD, should definitely try to track this one down. — François Couture, All-Music Guide

re: Inside/Outside USA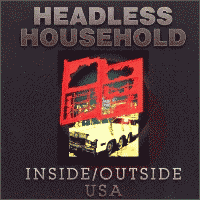 "Santa Barbara's comically-inspired jazz-cum-anything quartet... fusion, country, folk, funk, surf, and even polka all mix together with just enough bite, humor, and variety to buck convention. Prime musical chops keep the irreverence focused... this household is all over the map; in terms of creativity and energy, the group is beyond category." --Roger Len Smith, Jazziz
All-Music Guide: On Inside/Outside USA, Headless Household fuse a wide range of styles to create their brand of rock: swing, bebop, blues and avant-garde, among others. — John Bush
"Headless Household's singular brand of jazz is not so much free as it is amok. This Santa Barbara combo plays endearingly bizarre pop, bop, swing, and several other genres with impeccable musicianship and a sly sense of humor... `The Mayor's Send-Off' is a very nice piece of blue-mood lounge music with a smoky trumpet; `Rumba in Kuwait' is an impressive exercise in avant-noise; `Wintering in Heaven' deserves to be added to the repertoire of every nightclub crooner. An added bonus is `Woe to Him,' featuring vocals by Toad the Wet Sprocket's Glen Phillips. Recommended, but not for purists." --Rafer Guzman, East Bay Express
"Fusion's never been this bizarre. Headless Household combines good 'ol Southern blues-boogie, be-bop, swing and rock into a gamey stew served warm over a plate of Penguin Cafe Orchestra, Golden Palaminos, Captain Beefheart, Savoy Brown, and onward...Wild."--Darren Bergstein, I/e
"A quartet from Santa Barbara, CA, Headless Household have been together for over a decade, and released their first, self-titled album in 1987. `Inside/Outside' finds them teaming up with several guests, including Glen Phillips of Toad the Wet Sprocket, on 14 tracks of eclectic and moody mellow jazz and fusion. Ten of the tracks are instrumentals, and explore a variety of jazz atmospheres with occasional help from some horn players. The band members, playing, playing guitar, keyboards, bass and drums, are all solid musicians, but the strength of the album lies mainly in its variety—the songs each explore different shades of jazz, from light, dreamy vocal pieces to comedic musical jabs at James Brown and surf music, to somewhat more upbeat and eclectic fusion. For those into the mellower side of electric jazz, 'Inside/Outside' should prove to be an interesting and enjoyable listen, though not an essential release." --RW, Expose
"Following a private madness, they assemble (musical) nuggets into something great and, sometimes, even important. Using old and new instrumentation and technologies, Headless Household weave through tight turns and time-signatures" --B.H. Hart, Sound Choice
"It's hard to categorize these guys, though their music's playful, quirky, sometimes downright silly, sometimes quite soothing."--New Music Distribution Service Catalogue blurb

Send e-mail: info@householdink.com
last updated: september 21, 2019